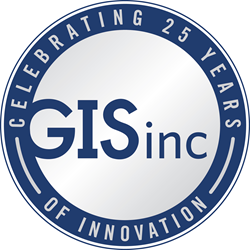 BIRMINGHAM, Alabama (PRWEB) February 13, 2017
Geographic Information Services, Inc. (GISinc), was awarded the Federal Small Business Specialty (FSBS) Partner Innovation Award at Esri's 2017 FedGIS Conference on February 13, at the Walter E. Washington Convention Center in Washington, DC.
The award is being presented to GISinc for their SmartSpace Internet of Things (IoT) solution, utilizing indoor sensor data to perform analytics using Esri technology. The company continues to innovate Location Technology with Blue Dot Intelligence across all business sectors in the federal space. With continued growth of IoT technologies, GISinc is steadfastly working to cultivate IoT solutions to meet the increased need for the deployment and integration of such technologies which, provide in-proved productivity, efficiencies, and real-time analytics.
"We're very excited to be Esri's Innovation winner. Innovation often means changing the status quo which, can be very challenging. We are fortunate to have client and business partners who share the vision, courage, and passion to join us in innovation; we could not do it without them. We look forward to using this as an opportunity to highlight the value of the FSBS and the exciting innovations to be created with Esri and location technology," Colby Free, Federal Managing Partner.
Tomorrow, GISinc will present on their SmartSpace IoT solution at the FedGIS Conference on February 14, at the Walter E. Washington Convention Center in Washington, DC.
"Esri recognizes GISinc for the FSBS Innovation Partner Award for their continual adoption of Esri emerging technology, keeping their skills current with certified resources and introducing their SmartSpace indoor mapping platform," said Heather Whitney, partner executive at Esri. "The new solution leverages Esri's latest 10.5 version of the platform and uses sensor data from facilities to perform complex analysis, enabling organizations to gain better insights by understanding where people are within a location, and why" Heather Whitney, Partner Executive.
A premier GIS services firm, uniquely skilled to provide innovative IoT solutions delivering blue dot insights. GISinc continues to implement, deploy, and support award-winning applications for federal agencies.
GISinc, celebrating 25 years in GIS, is an employee-owned company located in Birmingham, Alabama, with offices throughout the United States. GISinc has a passion for delivering customer driven location technology solutions to federal, state and local governments, and commercial organizations. For more information, please visit http://www.gisinc.com, or call (205) 941-0442.