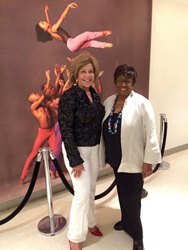 "Dallas Black Dance Theatre has made an invaluable impact on the people of Dallas and beyond," said Texas State Representative Helen Giddings.
Dallas, Texas (PRWEB) February 13, 2017
Texas Cultural Trust named Dallas Black Dance Theatre (DBDT) among 15 Texas Medal of Arts Awards Honorees for 2017. The biennial statewide event celebrates Texas's legends in the Arts during a two-day event in Austin, Texas, February 21-22, 2017. The state's most prestigious arts gala will be held at the Texas Performing Arts at the University of Texas at Austin. The event celebrates amazing Texans who have made powerful contributions to the arts in the state and around the world.
This year's winners are a diverse group of actors, musicians, dancers, artists, writers, architects, reporters, and philanthropists that include:
Corporate Patron: John Paul & Eloise DeJoria, Paul Mitchell/Patrón Tequila, Austin
Multimedia: Kris Kristofferson, Brownsville
Television: Jaclyn Smith, Houston
Individual Arts Patron: Lynn Wyatt, Houston
Dance: Lauren Anderson, Houston
Music: Yolanda Adams, Houston
Arts Education: Dallas Black Dance Theatre, Dallas
Film: Janine Turner, Euless
Theater: Renée Elise Goldsberry, Houston
Foundation Patron: The Tobin Endowment, San Antonio
Visual Art: Leo Villareal, El Paso
Architecture: Frank Welch, Dallas
Literary: John Phillip Santos, San Antonio
Journalism: Scott Pelley, San Antonio
Lifetime Achievement: Kenny Rogers, Houston
Dallas Black Dance Theatre is being honored in the field of Arts Education as it celebrates its 40th Anniversary Season. As an additional honor, the dance company will perform during the awards show and gala dinner that is hosted by actress, choreographer and Texas native Debbie Allen, a former honoree of the prestigious award.
Texas State Representative Helen Giddings nominated DBDT for the critical service they perform for Dallas' youth and celebrated the announcement. "The Dallas Black Dance Theatre has inspired a new generation of Texans to participate in dance as a means of expression. Through professional dance concert performances, arts-in-education programs, and community outreach events, the Dallas Black Dance Theatre has made an invaluable impact on the people of Dallas and beyond," Representative Helen Giddings said.
The dance institution started as a vision of Ann Williams who wanted to inspire minority boys and girls to appreciate dance as an art form. For nearly 40 years, Ms. Williams has directed Dallas Black Dance Theatre from a community-based organization and a semi-professional organization to a full professional dance company that has traveled the world. Over the years, more than 4 million arts patrons have experienced Dallas Black Dance Theatre as it performed on five continents, in 15 countries and 31 states, including two Olympic Cultural events. The mission of Dallas Black Dance Theatre is to create and produce contemporary modern dance at its highest level of artistic excellence through performances and educational programs that bridge cultures and reach diverse communities.
Dallas Black Dance Theatre has an extensive educational outreach program. During the past four decades, 2.6 million students, grades K-12, have experienced the dance company's performances and educational programs. DBDT serves more than 20,000 youth in grades K-12 in Dallas-Fort Worth area schools each. DBDT offers community outreach services through workshops, lecture/demonstrations, master-classes, residences, mini-performances and student matinees that are designed level-specific for elementary, middle, high school and university students. Annually another 40,000 youth and adults are reached through national and international festivals, tours, special performances at universities, social service agencies, professional and corporate organizations, civic events and community venues.
Dallas Black Dance Theatre (DBDT) is the 10th largest minority arts organization in America, the fourth largest black dance company in the nation and the oldest continuously operating professional dance company in the City of Dallas.
For more details on the Texas Medal of Arts gala and activities visit http://www.texasmedalofarts.org.
About Dallas Black Dance Theatre
Located in a historic facility at the eastern end of the thriving downtown Dallas Arts District, Dallas Black Dance Theatre is a nationally and internationally recognized professional modern dance company. DBDT engages the cross-cultural community through contemporary modern dance presented from the African American experience. Dallas Black Dance Theatre is a resident company member of the AT&T Performing Arts Center – Dee and Charles Wyly Theatre located in Dallas's Art District.
Dallas Black Dance Theatre is comprised of two dance companies, three performing ensembles and its training Academy. Dallas Black Dance Theatre's professional company, DBDT, consists of 12 full-time salaried dancers performing a mixed repertory of modern, jazz, African and spiritual works by national and international choreographers. DBDT: Encore! (formerly DBDT II) features eight artists of rising excellence from across the nation that support DBDT's growing local and regional educational outreach.
Dallas Black Dance Academy, the official school of Dallas Black Dance Theatre, celebrates 43 years of delivering dance instruction to a community of diverse backgrounds. Over 550 students participate weekly in 50 dance classes of ballet, jazz, tap, modern, and African at DBDT studios for ages four to adult. The academy has three performing ensembles: Allegro, DBDT's premier academy ensemble, Senior Performing Ensemble and Junior Performing Ensemble.
For more details visit http://www.DBDT.com and http://www.dbdt.com/academy.