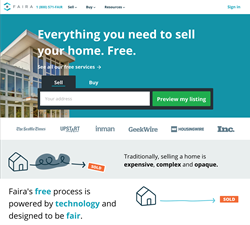 "In our first year, we've proven traction in the Seattle market. And, we're confident that our solution will provide much-needed transparency and efficiency in the competitive Bay Area market."
Seattle, WA (PRWEB) February 16, 2017
Faira, a real estate technology startup, announced today it secured an additional $1.2 million, bringing total funding to $2.73 million. The round was lead by Uber and Vroom investors, Mark Hager and Himel Capital. Faira offers an online home sales marketplace that solves the complex problems of buying and selling for both home sellers and buyers in a fair, transparent and modern process.
With this additional funding, Faira will expand to the San Francisco Bay Area.
"Powered by a dynamic team, Faira developed a technologically sophisticated marketplace that takes the complexity and confusion out of home sales, unlike anything I've seen before," noted Hager. "I look forward to the significant impact Faira will surely have on home sales in the Bay Area."
Amit Mital, a successful angel investor with early investments in Redfin, Zillow and OfferUp and R. Ravi, Carnegie Mellon Tepper School of Business professor also contributed to the round.
"We are very excited to offer our innovative platform to home buyers and sellers in California," said Kamal Jain, CEO and Co-founder of Faira. "In our first year, we've proven traction in the Seattle market. And, we're confident that our solution will provide much-needed transparency and efficiency in the competitive Bay Area market."
Based in Seattle, Faira listed over 100 homes in 2016 and is on track to triple the business in 2017. Customers in Seattle save an average of $20,000 using Faira. Unlike other emerging business models, Faira delivers the highest sale price to the seller.
How Faira Works

Faira is free for sellers and provides an MLS listing, independent home inspection, professional photography, marketing materials and an online offer platform.
The inspection, title report and seller's disclosures are posted on the website for buyers and agents to review.
Buyers can make an offer on Faira in 60 seconds, from both mobile and desktop devices. All offers are available for review, including timing and value of the offers submitted. 
There is no earnest money so the contract is simple.
An expert, dedicated customer success team supports sellers through the home sale process.
Typically, direct buyers save 3% on any MLS listed home.
"We've been able to save over two million dollars for home sellers in the Seattle market, allowing our customers to buy that new car, take a much-needed vacation, or even retire," explains Jain. "That's what it's all about. Providing real value to customers by building a fair and transparent process for one of the most significant financial transactions of their lives. We're working every day to build a better experience for our customers."
Faira is now available throughout the San Francisco Bay Area. Homeowners can start their listing at http://www.faira.com
About Faira:
Faira is a real estate technology platform that is revolutionizing the way people buy and sell homes – saving money, time and stress for both buyers and sellers. By creating a modern, efficient, cost effective process with unprecedented accountability and transparency built into the system, Faira is transforming the way people approach real estate.