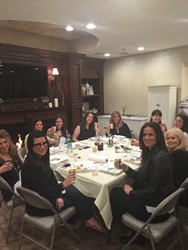 Cookbooks and recipe sites do a job, but there is nothing like a team cooking party to build true "Kitchen Confidence!"
Roslyn, New York (PRWEB) February 14, 2017
Nicole Meyer, owner of Nibbes By Nic is holding workshops to encourage and equip local foodies for this year's Passover Holidays. Whether it's a stay-at-home mom of three or a busy executive on-the-go, every woman has her own concerns. Nibbles by Nic figures out a plan to suit each client's individual needs
Whether you are preparing the entire meal yourself or not, all of the steps and suggestions in this workshop will assist in the entire holiday. The best part is the recipes, tricks, and party hints are timeless and can be used all year long. This workshop includes how to make meals ahead of time, create adequate preparation timelines, hints on décor and Seder Table settings, and lots of simple recipes.
Nicole has the realistic and practical ideas that even the busiest of moms can adhere to. The workshop features specific recipes for unstuffed cabbage stew, cauliflower-spinach Kugel cupcakes, under 5-ingredient desserts, and how to build the most stunning Passover Crudité platter ever for your Seder. Nicole brings all of the ingredients, kitchen tools and equipment making for a stress-free experience right from the very start. This workshop will be the right excuse to get a babysitter, the girls together, and tackle the best and most efficient ways to kick some holiday but.
One may recognize Nicole from being on The Chew, Rachael Ray, The Steve Harvey Show & News 12 Long Island. One can find these recipes and helpful tricks on http://www.nibblesbynic.com, as well as YouTube. With Nibbles by Nic, she holds cooking parties. She buys all of the products, does all of the planning, and comes ready to show you what you need to know.
"Nicole's parties have always been a big hit for a girls' night. I always leave ready to take on mealtime. Her online recipes and videos continue to inspire me on days that I don't feel equipped or need a new meal plan, or you may be a veteran cook, new mom and wife, or someone who just enjoys new new recipes, this workshop is for you. Nicole's teaching abilities and passion for cooking will leave you inspired."
Odelia Fischer, Roslyn, New York