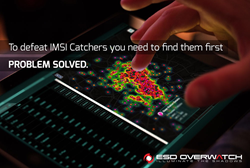 The first real-time IMSI Catcher detection system.
(PRWEB) February 13, 2017
ESD Overwatch Live Demo at RSA
Friday the 17th of February, Trent Smith Director of Project Overwatch at ESD America will conduct a live demo of our IMSI Catcher Detection technology. Overwatch is currently used under US Government contract to protect critical infrastructure and specialist units from illegal IMSI Catcher use.
About Overwatch
Deployment of hostile base stations has become a common threat as costs and procurement hurdles have been continuously falling. The ESD Overwatch network security system is the world's first system capable of distributed detection localization alarming and neutralization of active attacks on mobile communications via the air interface.
Leveraging GSMK's patented Baseband Firewall technology stationary sensors can be combined with standard commercial mobile phones to permit comprehensive and cost-efficient detection of rogue base stations including fake cell towers known as IMSI catchers as well as individual attacks carried out over the air interface.
The system integrates and synthesizes data from both types of sensors in a national situation report for cellular communications allowing network operators, government agencies and information critical industries for the first time to detect and combat rogue base stations used for eavesdropping and fraudulent activities in real time.
https://www.rsaconference.com/events/us17/agenda/sessions/7351-Project-Overwatch-Multinational-Effort-to-Combat-IMSI-Catchers
esdoverwatch.com