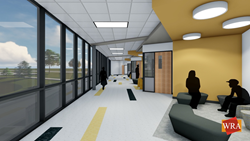 WRA Architects is proud to continue the long relationship with Plano ISD in its ongoing commitment to providing excellent educational environments -Keith Anderson, AIA
Plano, Texas (PRWEB) February 13, 2017
Plano ISD East Senior High School
Design Video: https://youtu.be/mCg7CVyoDHA
The dynamic and ever expanding campus of Plano East Senior High School is soon to welcome another major addition, this time in a very visible location on the school's expansive lawn along Los Rios Boulevard. This new classroom building, one of the early projects of Plano Independent School District's 2016 Bond Program, will allow for the removal of four temporary classroom buildings, each with four classrooms, that currently occupy space in the large parking lot on the east side of the campus.
Motorists approaching the school from the south will view the new structure wrapping around the lake in the heart of the campus. The stepped configuration of the north and west walls maintains a large portion of the school's signature front lawn and opens views to Plano East's main entrance. This two-story addition, matching the height of the adjacent structures, includes 19 new full-size classrooms, four smaller classrooms for specialized instruction, a large multipurpose meeting room for up to 120 occupants, and collaboration spaces to support next generation learning.
A paved walkway with seating along the lakefront borders the new building, and provides settings for student gatherings and outdoor educational activities. Inside, the neutral color palette of the existing buildings has been brought into the addition, accented with Plano East Gold and complimentary colors. Walls of glass overlooking the lake and the broad expanse of lawn connect the indoors to the outdoors, and provide views and natural light for the student collaboration areas. These spaces, filled with soft seating and access to wireless technology, bring learning opportunities out into the circulation space, giving new and expanded purpose to the school corridor. Here, students will be able to interact in small groups, read and study individually, or work one-on-one with instructors, effectively adding space and flexibility to the adjacent classrooms.
The classrooms themselves, will also benefit from large areas of glass to bring in great natural light through north-facing windows.
Occupants of the multipurpose meeting room will enjoy views to the lake through the expanse of windows lining the south wall.
WRA Architects is proud to continue its long partnership with Plano Independent school district in its ongoing commitment to providing excellent educational environments for the District's students and teachers, here at Plano East Senior High School and throughout the community.