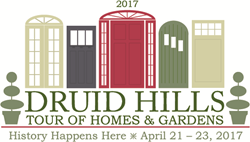 'History Happens Here' through the vibrant community culture of Druid Hills where tour goers will find inspiration, celebration, and a focus on preserving and extending the vision of noted landscape architect Frederick Law Olmsted
(PRWEB) February 14, 2017
Ryan Graham, Chairperson, Druid Hills Civic Association Tour Committee, announces the 2017 Druid Hills Tour of Homes & Gardens and Makers Market, April 21-23, 2017, "The vibrant tradition continues as the historic Druid Hills neighborhood welcomes neighbors and visitors alike to tour homes featuring architecture from renowned architects, experience award winning interior design, enjoy southern fare, hear local musicians, see Georgia artists and explore Emory Village. 'History Happens Here' through the vibrant community culture of Druid Hills where tour goers will find inspiration, celebration, and a focus on preserving and extending the vision of noted landscape architect Frederick Law Olmsted."
One of the longest running and premiere tour of homes in the nation, the 2017 Druid Hills Tour of Homes & Gardens and Makers Market celebrates its 49th year with six homes and one garden that feature the work of master renovators and landscape designers:

834 Lullwater Road, Honora and Dan Handley
1250 Fairview Road, Stephanie and John Giegerich
928 Oakdale Road, Charlie Andrews and Burt Tillman
1017 Oxford Road, Drs. Shannon and James Hamrick
1125 Oxford Road, Sarah and Scott Ellyson
1371 North Decatur Road, Emily and Andrew Webb
1022 Lullwater Road, Julia Roberts (Garden open for tours Saturday only)
The tour will also feature a series of events open to the public at Emory Village and throughout the neighborhood including:
Makers Market on Saturday 10:00 AM – 5:00 PM Slice & Pint Parking Lot
Local Bands on Saturday 6:00 – 10:00 PM, Slice & Pint Parking Lot
Patch Dash 5K Fun Run/Walk and Tot Trot on Sunday 8:00 AM
CDC Museum Tour on Friday, 11:00-12:30
Bike rentals and walking maps available at Will Call / Slice & Pint Parking Lot
Lullwater Preservation Garden Plant Sale
The tour events take place Friday, April 21, 1:00 – 5:00 PM; Saturday, April 22, 10:00 AM – 5:00 PM; and Sunday, April 23, 10:00 AM – 5:00 PM.
Individual and discounted group tickets may be purchased in advance on the website: http://www.druidhillstour.org.
Proceeds from the tour, events and merchandise benefit the Druid Hills neighborhood, which is on the National Register of Historic Places.
About The Druid Hills Civic Association:
The Druid Hills Civic Association was founded in 1938 to preserve Atlanta's Druid Hills neighborhood and to protect its unique heritage of parks and architecture. The Association carries out these responsibilities by exercising vigilance in zoning matters, maintaining a liaison with local governing bodies, informing the citizens of community issues, and promoting the general welfare of the community for the enjoyment of its residents today and in the future.