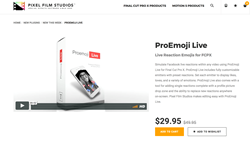 This is a perfect FCPX Plugin to simulate facebook live in any video.
Aliso Viejo, CA (PRWEB) February 13, 2017
Simulate Facebook live reactions within any video using ProEmoji Live for Final Cut Pro X. ProEmoji Live includes fully customizable emitters with preset reactions. Set each emitter to display likes, loves, and a variety of emotions. ProEmoji Live also comes with a tool for adding single reactions complete with a profile picture drop zone and the ability to replace new reactions anywhere on-screen.
Turn any video into a Facebook live stream by adding ProEmoji Live directly above footage. ProEmoji Live includes six unique Facebook style reactions. Users have the options to use any single one of them, or a mixture that can be randomized with a simple click of a button. ProEmoji Live gives users all the tools necessary to create the perfect live video.
To use, select a ProEmoji Live emitter preset from the Titles Browser. First, decide whether to use an emitter with a mix or a single stream of emojis. Then, choose to use the full stream or a five second burst. Finally, choose between presets that start off screen, end off screen or stream all the way through without stop. Each preset can be manipulated in the timeline to change the duration of the stream without altering the speed of emissions.
ProEmoji Live also comes with a new reaction tool. Simulate the look of applying a reaction to a reaction stream using these presets. Set a profile picture for the drop zone and it will animate into the shot and transform into the selected reaction. Place the reaction anywhere using on-screen controls.
ProEmoji Live features a variety of controls so that users have full control over settings. Change reactions and the emission start point by using intuitive drop-down windows. Adjust the range, width, height and depth of emissions to make changes to the stream. Cell Controls like Scale, Birth Rate, Life, Angle and Speed can all be adjusted to uniquely modify any stream.
Established in 2006, Aliso Viejo, California-based Pixel Film Studios is an innovative developer of visual effects tools for the post-production and broadcast community. Their products are integrated with popular non-linear editing and compositing products from Apple FCPX. Apple, the Apple logo, Mac OS X, and Macintosh are registered trademarks of Apple Inc. in the U.S. and/or other countries. All other trademarks and trade names are the property of their respective owners.