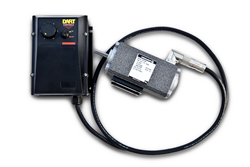 Sioux Center, IA (PRWEB) February 14, 2017
Groschopp, Inc., a fractional horsepower motor and gearmotor manufacturer, and Dart Controls, Inc., a variable drive, control and accessory designer and manufacturer for electric motors, have combined forces to produce strategically designed motor and control combinations. Each part—the Groschopp motor and the Dart control—have been configured to be two pieces of one solution. Specifically engineered to work together, this Groschopp-Dart combination was developed with an eight-wire sequence, allowing for optimal connection points and quality performance.
This ½ HP Adjustable speed motor can achieve a max torque of 4.4 in-lb and has a speed ratio of 50:1. In addition, with its totally surrounded, non-ventilated enclosure, this Brushless DC motor (IP66) design is equipped with a fully connected 60" cable pre-wired to the NEMA4X control.
For over 80 years, Groschopp Inc. has delivered expert technical assistance, superior product performance, quality-honed workmanship and industry experience in the manufacture of highly engineered fractional horsepower electric motors and gear motors for OEM and distribution products. With products designed and manufactured in the USA, Groschopp offers a full line of AC, DC, brushless DC and universal motors—as well as Brushless controls—that can be combined with right angle worm, planetary, right angle planetary or parallel shaft gearboxes. (An ISO 9001:2008 registered company.)
If you would like to know more about this topic, please call the Groschopp sales team at 712-722-4135 or browse the website with the following link: http://www.groschopp.com/product/motor-controls/.