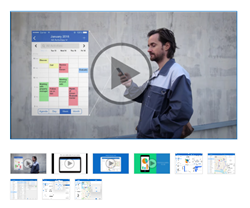 Customers can now utilize Resco Mobile CRM together with Dynamics 365's Sales, Customer Service, Project Automation and Field Service offering - CEO, Radomir Vozar
Boston, MA; Fresno CA; St. Louis, MO; San Diego, CA; San Francisco, CA; New York, NY (PRWEB) February 14, 2017
Resco, the maker of mobile solutions for Microsoft Dynamics, Salesforce and Oracle CX, has just announced that Resco Mobile CRM is now available to download also from Microsoft's AppSource marketplace.
Resco Mobile CRM gives users around-the-clock access to vital business data, boosting the productivity of sales representatives, field service technicians, managers and other professionals on the go. It allows them to work with all their Microsoft Dynamics 365 data anywhere, anytime and even offline — enabling to view, create, delete, and modify information, regardless of the internet connectivity.
The app is built to take full advantage of technology in mobile devices — incorporating features such as route planning and maps displaying accounts, contacts, activities or other records; e-mail and phone call tracking, photo and audio capturing, digital signatures; QR and barcode scanning; and many more.
Microsoft AppSource — first introduced in July 2016 during the company's Worldwide Partner Conference — is a new marketplace to help business users find, try and use line-of-business software-as-a-service (SaaS) apps and add-ins expanding the possibilities of Dynamics 365. Through AppSource, ISVs and other partners can reach a growing range of business customers in a convenient way.
"Dynamics 365 combines Microsoft's CRM and ERP cloud solutions into one cloud service with purpose-built apps to help manage specific business functions — and customers can now utilize Resco Mobile CRM together with Dynamics 365's Sales, Customer Service, Project Automation and Field Service offering. Making our app available on AppSource, we want to enable an even broader audience to enhance and grow their business through advanced mobile capabilities," stated Radomir Vozar, CEO at Resco.
Customers and partners can find more information and download Resco Mobile CRM from the AppSource here.
About Resco Mobile CRM
Resco Mobile CRM is the all-in-one mobile solution that gives users around-the-clock access to CRM data wherever they are. It can be utilized with Microsoft Dynamics CRM, Oracle CX, Salesforce, or as a standalone CRM system — Resco Cloud. It offers reliable offline functionality, interactive maps, support of custom entities & many other capabilities that make it the product people love to use.
About Resco
Resco, founded in 1999, is one of the global leaders in developing cross-platform mobile software solutions. The team of Resco professionals utilizes its knowledge by designing products for corporate customers, developers, integrators, end users and today, Resco Mobile CRM is utilized by more than 1600 corporate customers around the world.
For more information please visit http://www.resco.net