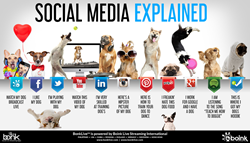 The future is about to Bonk you on your head!
Denpasar Indonesia (PRWEB) February 13, 2017
Today Boink Live TM directors announced, "Boink Live broadcasting new application" will be launching its most powerful feature globally to all VIP online Boink broadcasters in 2017, which could earn the company and its pioneer partners billions of dollars.
The last decade has seen the Web evolve from a somewhat limited network used to sharing bits of information among a group of academic intellectuals to a global phenomenon offering more information, resources, and social connections than ever before in history. One of the more recent evolutions in Internet history has been social media, basically, a Web-based mode of dialogue that uses a wide array of tools, websites, and other applications to encourage communication between individuals, corporations, non-profits, and other organisations. This has absolutely revolutionised how we can communicate with people all around the world.
Today in Denpasar Bali, Indonesia, the directors of Boink Live Streaming announced to the world and its animation partners, Castle Production, C.E.O Ardian Eliana, who is also the chairman of the Indonesian animation industry association and on the board of Indonesian chamber of commerce announced, "that they would be launching its most powerful feature globally which would only be available to VIP broadcasters in 2017."
The Boink application will have a special feature for all VIP online broadcasters. The VIP broadcasters will be able to go live in 360 degrees and in HD quality from their mobile phone; VIP hosts will be able to stream 360 degrees upon the launch.
The president for Boink Live Streaming, Mr. John Lamb said, "the implementation of the Bonk application is amazing and would no doubt earn the company and its pioneer partners billions of dollars."
The new 360 viewing feature is just one of the features this super application will be using. Any viewer watching the broadcast while using their desktop can click and drag around on the screen to rotate the camera and while on a mobile phone, you can twist and turn your phone to change your perspective.
To earn VIP status and be able to use the 360-degree HD feature, users must be at level 30 before they can use the feature. Bonk Live TM users, earn points via likes from viewers as the viewer's simply tap their mobile screen's giving and sending the broadcaster free hearts and balloons. The broadcaster gets a free balloon or a free heart for every tap made by the viewer which also helps the broadcaster earn points, in addition to receiving virtual gifts as appreciation. The Bonk broadcaster's levels move faster when larger audiences and new fans start viewing the broadcaster while streaming online.
Bonk live Social Media Features also will include:
User accounts: Bonk Live TM users will download the application for free and create their own user account that they can log into. The Bonk application was set up this way because there's enormous social interaction on the app. Bonk built all user account's permitting each user to share information or interact with others online.
Profile pages: Since social media is all about communication, Bonk Live TM lets the user create a video profile page to represent each individual user online. The Bonk user will be able to include information about themselves in addition to sharing there profile photo, bio, website, feed of recent posts, recommendations, recent activity, video's of their live streams and more, including friends, followers, groups, hash tags and so on.
Bonk Live TM Individuals users will be able to use their accounts to connect with other users. They can also use their accounts to share links and to subscribe to certain forms of information.
News feeds: When Bonk Live TM users connect with other users on social media, they're basically saying, "I want to get information from these people." That information is updated for them in real-time via their live feed's. Not to mention the live broadcasting can earn money anytime 24 hours a day with the pay per push advertisements available on the Broadcasters advertising carousal every ten minutes.
Personalization: Bonk Live TM Social media site also gives the user the flexibility to configure their user settings, customize their profiles to look a specific way, organize their friends or followers, manage the information they see in their news feeds and even give feedback on what they do or don't want to see.
Notifications: Bonk Live TM app notifies users about specific information. Users have total control over these notifications and can choose to receive the types of notifications that they want.Information updating, saving or posting: The Bonk Live TM app allows you to post absolutely anything, with your user account. It could be a simple text-based message, a photo upload, or a saved video, or even a YouTube video link, or for some people a link to an article or anything else someone using the application wants to share with friends or fans online.
Like buttons and comment sections:
Bonk Live TM allows the users to interact on social media via live stream, with face to face broadcasting, messaging, and emails.
Bonk Live TM gives the user the ability to share their thoughts or feeling's. Review, rating, level's and voting systems: Besides streaming and broadcasting on Bonk Live TM, the application has a system in which the broadcaster is rated on how well they are doing and lets the broadcaster continue to level up. When the broadcaster gets to a certain level they are given an exclusive VIP button, which allows them to read advertisements and show video advertisements and make money when they are streaming online. Not to mention being able to use the 360 degree HD Broadcast button to enhance stream.
Social media has changed business around the world. Savvy organizations recognize that social media gives them a uniquely personal way to connect to their consumers.A one-way, professionally managed public relations monologue is no longer the only choice that businesses, organizations, and non-profits have. Nowadays, smart businesses create online communities where customers and clients can exchange ideas, share experiences, and encourage innovation. With Bonk live Hundreds of millions of people will be viewing live broadcasts while seeing special and unique offers only found on Bonk live Social media application. While also, having the luxury of having everything the user need's in just one super streaming application.
How to Define Bonk Live Social Media?
Bonk Live Social media quite simply is a new streaming and HD media technology that people will use to communicate and socialize with one another, while both online and offline
"Social media" has evolved into a big buzz phrase for 21st century electronic communication tools of all kinds, however. Many people also use social media as a broader phrase to describe all kinds of cultural phenomena involving communication, not just the communication technologies themselves.Often, for example, people use social media to describe the content that people create and share with electronic publishing tools; such material also is referred to as user-generated content. However with Bonk Live Tm broadcasting it becomes an entertainment blast full of fun and making money while streaming online, as everyone who is using the application gets exactly what he or she want's.
Bonk Live Tm social media is all electronic and allow people to communicate and interact with one another using computers, smart phones and the Internet. Bonk Live TM is set to be released for all android and apple application stores including Computers and Google play stores.
Bonk Live TM will do it all as a super streaming Broadcasting application. It is set to be a free social networking streaming site that allows registered users to create profiles, upload photos and video, send messages and keep in touch with friends, family and colleagues either through Live streaming, messaging, live messaging, or by a simple face to face call which is appropriately named the Bonk Beam. According to statistics from the Nielsen Group, There are 3.17 billion Internet users using social media applications.
Bonk Live TM site is composed of hundreds of sub-communities around the world, known as, "The Global Bonk Live Directory." Each user has a specific topic where they can be found when live streaming their broadcast. Such as technology, politics, music, singing, shooting, dancing, comedy, swimming, cooking, painting, which also includes where they live and the language they speak.
Bonk also allows brief 30 second video descriptions about the Bonk Live Tm broadcaster as the main focus of the site is live visual Broadcasting via streaming. The 30-second video allows the viewer to see a snippet of who the broadcaster is, where they are from, what language they speak and how old they are. Allowing the viewer to say yes or no to watching the broadcast.
Social media is becoming an integral part of life online as social websites and applications proliferate. Most traditional online media include social components, such as comment fields for users. In business, social media is used to market products, promote brands and connect to current customers and foster new business.Social media analytics is the practice of gathering data from blogs and social media websites and analyzing that data to make business decisions. The most common use of social media analytics is to mine customer sentiment to support marketing and customer service activities.
"Bonk live TM, gathers the data real-time and tells you exactly, who wants your product and who said yes to your product, as well as who is using it, who bought it, and who said no." This becomes an advertiser's dream analytic when companies internationally advertise their products on Bonk Live TM Application.
Bonk Live TM streaming application is very simple and easy for consumers to use. Online streaming isn't merely convenient—it's become an almost intuitive way to engage with the web and the world. While on-demand and live video streaming services have evolved into a core business of the media and entertainment industry, businesses and organizations in other fields are finding that online video is an effective and increasingly essential tool for marketing, and advertising as well an important communications tool.
Bonk Live TM, has created a new Super streaming application concept that will earn the company and its pioneer share holders billions of dollars. Bonk Live TM will be easy to use and free to download. The money derived from Bonk Live TM super streaming application will be earned through advertising, virtual gifts, credit and debt card fee's and a unique payment system for pay per push advertisers.
This press release contains forward-looking information within the meaning of Section 27A of the Securities Act of the 1933 and Section 21E of the Securities Exchange Act of 1934, and is subject to the safe harbor created by those sections.