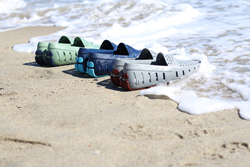 We believe we're solving a problem for anyone who wants a versatile shoe for everything from travel, to the beach, to the boardroom
Dallas, Texas (PRWEB) February 13, 2017
Floafers have jumped in popularity on Kickstarter, eclipsing their Kickstarter goal with innovative versatile shoes that combine the style of driving loafers with the utility of slip-resistant water shoes.
"We're thrilled with the instant validation that consumers around the world have given our idea by backing our campaign in the first week since our launch," said Floafers co-creator Hayes Brumbeloe. "We believe we're solving a problem for anyone who wants a versatile shoe for everything from travel, to the beach, to the boardroom."
Developed as a stylish lifestyle shoe brand, Floafers are made of Ethylene Vinyl Acetate (EVA) foam, an environmentally-friendly material that is lightweight and waterproof. The soles of the shoes are made with scruff-proof and slip-resistant Thermoplastic Copolyester (TPC) rubber – which makes them ideal for wearing on boats or any kind of wet surface.
Floafers are stylish enough to fit right in, even when worn at a restaurant or an office, making it possible to enjoy a weekend getaway with one pair of shoes for day and night.
Floafers float and are ideal for many outdoor activities including:

Boating: sailing, yachting, power-boating, windsurfing, kayaking & canoeing
Fishing: recreational, competitive, deep-sea & weekend warriors
Leisure: Biking and walking, tubing & paddle-boarding
Outdoors: hiking, backpacking & camping
Travel and cruises: resorts, beaches, water parks & pool parties
Golfing:19th hole approved!
Floafers combine the good elements of Crocs (comfort, waterproof EVA foam) with classic loafer style, making them shoes that men and women can wear proudly for travel, beach, boating, everything outdoors - and for comfort on the job - at hospitals, restaurants, retail, etc.
They're breathable, designed with strategic vent holes and side gills to allow for fast drying, and are also anti-microbial and odor-resistant. For more information, and to take advantage of limited time early bird specials visit the Floafers Kickstarter campaign page.
About Floafers
Floafers is a startup shoe company based in Dallas founded in 2014 by Hayes Brumbeloe and Daniel Rubertone with a mission to produce attractive, stylish and functional shoes for both men and women, with plans to offer a line of children's shoes. The company's first line of Floafers have a patented design that includes strategic vent holes and side gills for breathability and fast drying, and are offered in several stylish designs which make Floafers a "lifestyle shoe brand, perfect for any occasion." For more information, visit floafers.com.