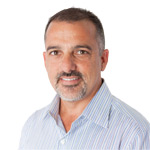 Michael had an exceptional year, and he epitomizes client-focused service.
Tampa, FL (PRWEB) February 15, 2017
Michael Carro, CCIM, was named the No. 1 producer among SVN Florida's more than 90 advisors, which placed him No. 3 nationally among SVN advisors, the company announced Feb. 9 at the SVN International annual conference in Tampa. Carro is the local managing director for the Pensacola market with SVN|SouthLand Commercial with offices across the Florida Panhandle in Pensacola, Panama City and Tallahassee.
"Michael had an exceptional year, and he epitomizes client-focused service," said Jerry Anderson, CCIM, executive managing director for SVN Florida. "SVN Florida advisors have consistently been among the top producers nationally and that trend likely will continue."
Rounding out the top five SVN Florida advisors were Joel Kattan in Miami (No. 2 in Florida, 15 nationally), Miguel de Arcos in Orlando (No. 3 in Florida, 30 nationally), Matthew Rotolante in Miami (No. 4 in Florida, 32 nationally) and Les Bryon, SIOR, CCIM, in Fort Lauderdale (No. 5 in Florida, 33 nationally). The geographical disparity of the advisors is evidence that SVN Florida has the state covered from top to bottom in all aspects of commercial real estate.
SVN Florida also reported that 16 advisors/firms from its roster won national awards in 2016. Four of its firms were among the Top 13 nationally for SVN International: SVN|SouthLand in the Panhandle (5), SVN Florida Inc. in Orlando and Jupiter (6), SVN Commercial Realty in Fort Lauderdale (9) and SVN Commercial Advisory Group in Sarasota (13).
SVN Florida also continued its aggressive expansion in 2016, opening offices in Ormond Beach, New Smyrna Beach and Fort Myers. Expansion for 2017 is focused on Naples, Port Charlotte, Tampa, Stuart and Jacksonville.
The outlook for 2017 appears to be strong, Anderson said. Most financial analysts predict the Federal Reserve may delay its anticipated interest rate increases as the economic impact of Donald Trump's presidency unfolds.
"Although we could see mo derate economic growth in 2017, low interest rates likely will continue to sustain demand for commercial real estate assets," Anderson said.
About SVN
SVN, a commercial real estate brokerage firm headquartered in Boston, is one of the industry's most recognized brands based on the annual Lipsey Top Brand Survey. With more than 190 locations in 500 markets, SVN Commercial Real Estate Advisors provide sales, leasing and property management services to more than 5,550 clients worldwide. The Florida team consists of more than 90 advisors serving locations across the state. SVN advisors represent clients in office, multifamily, retail, industrial, self-storage, hospitality, marina, mobile home park and land transactions. All SVN offices are independently owned and operated. For more information on SVN Florida, visit http://www.svnflorida.com. For the latest news, trends and issues related to the commercial real estate market, visit SVN Florida's blog http://svnflorida.com/real-estate-blog.
Contact
Ken Zeszutko, Zeszutko Corp.-PR on behalf of SVN Florida, 321-213-1818 / zeszutko(at)zcorp-pr(dot)com