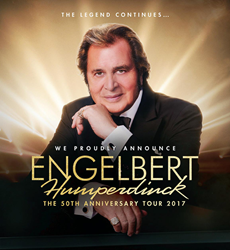 I wanted to do something nice for my fans to show them how much I truly love them.
New York, NY (PRWEB) February 14, 2017
Legendary performer and "King of Romance" Engelbert Humperdinck is no stranger to celebrating Valentine's Day, and is sharing something special for his devoted fans this Valentine's Day 2017. Now available on YouTube, Engelbert Humperdinck's special Valentine's Day acoustic performance of the classic ballad "You're My World" is exclusively streaming on the OK!Good Records YouTube channel at https://youtu.be/Scp80sh0lCo. The video features a stripped-down acoustic performance of "You're My World", with Humperdinck's powerful vocals accompanied by Johann Frank on acoustic guitar and David Arana on a grand piano.
Engelbert Humperdinck said, "I wanted to do something nice for my fans to show them how much I truly love them."
This year marks the fiftieth anniversary of Engelbert Humperdinck's music career- an illustrious career including 63 gold records, 24 platinum records, four Grammy nominations and a star on the Hollywood Walk of Fame. In 1967, Humperdinck kicked off his successful career when his single "Release Me" took him straight to the top of the Billboard charts and stayed in the number one spot for six weeks. Decades of touring and many hit records followed, as he became known for his charismatic crooning and heartfelt lyrics about passionate romance. Though Engelbert Humperdinck has already earned half a century of success, he does not plan on slowing down. Engelbert Humperdinck will be touring across the United States with dates currently scheduled from late February until late April.
Engelbert Humperdinck's duets album Engelbert Calling is available for purchase at music retailers nationwide and online from the OK!Good Records webstore, iTunes, and Spotify. Humperdinck's limited edition vinyl, Duets EP, is also available for purchase in the OK!Good Records web-store.
Engelbert Humperdinck will be on tour from February 21st to April 9th, 2017. Find a tour date near you at engelbert.com/tour
About OK!Good Records:
OK!Good Records is a genre independent record label established in 2010 to distribute, market, and promote artists and music that defy boundaries, reject limitations, and transcend the ordinary. They champion and celebrate independent music, thought, art, expression, and enterprise. http://www.okgoodrecords.com