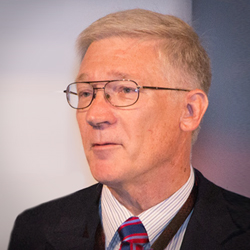 Invata is in a unique position to assist companies that are struggling today to achieve profitability in the area of omnichannel fulfillment.
Conshohocken, PA (PRWEB) February 14, 2017
Invata Intralogistics, an innovative engineering / software development firm specializing in the design, implementation, and integration of advanced omnichannel distribution systems, today announced it has hired industry veteran James Cooke as its Content Marketing Specialist.
As a member of Invata's marketing team, Cooke will develop content to increase the company's digital footprint, industry recognition, and leads acquisition. He will be responsible for the development of a wide range of content for use in client and prospect education, employee development, and public relations. His initial focus will be on Invata's use of the data sciences of analytics, modeling, simulation, and optimization for the purposes of empowering its systems design, systems performance, and continuous systems improvement.
Cooke joins Invata with extensive experience in writing about supply chain software and strategy, materials handling, and distribution practices. Most recently, he worked as a research analyst covering supply chain software. Prior to that, he edited CSCMP's Supply Chain Quarterly, a global journal of thought leadership for supply chain management. He has been an editor on such publications as DC Velocity, Logistics Management, Modern Materials Handling, Supply Chain Management Review, and Warehousing Management. He is the author of the book, "Protean Supply Chains," published by Wiley in 2014 about industry trends.
"We are very excited to have James join our team," said Walter High, VP Marketing for Invata. "I personally look forward having someone of his caliber and experience to help craft and expand our message of innovation in the areas of omnichannel distribution, e-commerce fulfillment, and reverse logistics."
"I am exited to join Invata and help strengthen its brand as the go-to company for omni-channel solutions," said Cooke. "As a leader in intralogistics automation, Invata is in a unique position in the marketplace to assist companies that are struggling today to achieve profitability in the area of omnichannel fulfillment."
About Invata Intralogistics
Invata Intralogistics, Inc. is recognized as an innovative authority in the design, implementation, and life cycle support of automated fulfillment and distribution center operations with demonstrable expertise in both warehouse execution software and systems engineering and development.
Specializing in the symbiotic integration of the flow of information with the flow of material goods, Invata offers complete solutions that begin with in-depth operational analysis and end with purpose-driven, turnkey intralogistics systems that optimize processes and resource utilization, while maximizing operational efficiency.
The result is a seamless synthesis of process and technology that engenders leaner, more productive, more adaptable, and more profitable fulfillment and distribution enterprises.