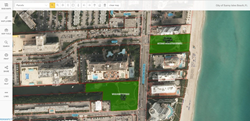 Charleston, SC (PRWEB) February 14, 2017
ROK Technologies, LLC a Silver Esri Business Partner announced the release of their cutting-edge new mapping interface ROKMAPS in the ArcGIS Marketplace. ROKMAPS provides users an innovative, sleek design that is scalable, customizable, and mobile ready. Utilizing ROKMAPS in the ArcGIS Marketplace users will be able to easily access all of their Web Maps in one place efficiently and with no configuration needed.
"Our goal is to increase uptime and productivity" said Alex Coleman, EVP at ROK. "Whether people are working in government or the private sector, the top concerns we hear day in and day out are around getting the optimal ROI out of their GIS investment. We completely redesigned our interface with that goal in mind."
To access, simply log into your ArcGIS Marketplace account and search for ROKMAPS, or, click here to open the product page, ROKMAPS.
ROKMAPS for ArcGIS® Online is the Web GIS solution for your organization whether you are novice user, an advanced analyst needing powerful location analytics, or an administrator responsible for your entire organizational account..
ROK Technologies, LLC, based in Charleston, South Carolina, serves clients in many industries and governments globally. As an Esri Silver business partner and ArcGIS® Server Application Service Provider licensee, they are able to leverage the entire ArcGIS® platform, including ArcGIS® for server hosting, application development, and virtualized desktop software - available from anywhere, on any device. ROK's cutting edge core competencies and secure private cloud infrastructure provide their clients the tools they need integrate their enterprise software with GIS solutions, products and services.
Connect with ROK
http://info.roktech.net/contact-us
Phone: 843.577.3192
Toll-Free: 888.898.3404
Fax: 843.225.1813