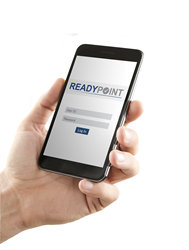 Healthcare professionals managing quality and compliance standards today need more readily accessible and affordable tools.
Nashville, TN (PRWEB) February 15, 2017
ReadyPoint Health, Inc. a leading provider of healthcare compliance solutions announced today the launch of ReadyPoint Quality Assessment Toolkits™ designed for easy access and use by hospital Directors of Quality/Safety, Infection Control Practitioners, Safety Officers, Life Safety Specialists and Emergency Management Coordinators.
The Quality Assessment Toolkit series consists of pre-assembled online checklist templates that replace cumbersome paper assessment forms and tracers used to evaluate standards compliance. The toolkits are professionally curated for hospital compliance and designed for collecting data, identifying trends, remediating findings and providing leadership with information necessary to continually improve healthcare quality.
Assessment Toolkits can be used on mobile devices, web browsers or as paper printouts. Hospital staff using an iPad, iPhone or Android device can access a checklist and quickly document non-compliant items with photographs. Corrective action email messages to appropriate individuals are automatic resulting in improved communication and workflow. Each toolkit includes reporting tools that show compliance and assignment status by location, category or checklist as well the status of open and closed deficiencies. Assessment Toolkits quickly and easily replace paper forms with on-the-go electronic capabilities and they can be customized to assess hospital-specific compliance standards and processes.
Peter Clifton, ReadyPoint Health CEO commented, "The majority of healthcare professionals managing quality and compliance standards today wrestle with avoidable problems. They typically rely solely on paper forms, which are cumbersome, ineffective and ultimately costly. Or they struggle getting funding only to implement solutions which force them to rely again on manual processes using paper forms, excel spreadsheets for data compilation and reports and endless emails for follow up on identified issues.
ReadyPoint's goal in launching the new Quality Assessment Toolkit series is to eliminate these barriers by providing the most effective and affordable solution for healthcare professionals responsible for assessing and managing standards compliance."
For more information about ReadyPoint Quality Assessment Toolkits™ visit http://www.readypointhealth.com/assessmenttoolkits/. Assessment Toolkits are available for a free 15-day trial. "The 8 Keys To Compliance Excellence" (PDF 634KB) white paper is also available for free download.
About ReadyPoint Health Inc.
ReadyPoint Health Inc. http://www.readypointhealth.com is a leading provider of healthcare compliance solutions. ReadyPoint tools automate manual data compilation and paper forms as well as streamline accreditation survey readiness. Located in Nashville, TN, ReadyPoint was named by Healthcare Tech Outlook magazine as a 20 Most Promising Healthcare Compliance Solution Provider. Connect with us on Twitter at twitter.com/ReadyPoint and on LinkedIn at linkedin.com/readypointhealth.
ReadyPoint Quality Assessment Toolkits™ Including Associated Checklists Are Provided Below:
Patient Safety Assessment Toolkit

Medical Record Audit – Open
Medical Record Audit - Closed Chart
Nursing Huddle
Patient Safety Review
Medication Management Review
Documentation and Process Review
Emergency Management Assessment Toolkit

Disaster Privileging – Chief of Medical Staff
Disaster Privileging – Physician
Emergency Planning – EM Officer
Emergency Planning – Patient Care Staff
Emergency Planning – ED Nurse
Emergency Planning – EM Officer
Incident Command – Mgmt. Personnel
Incident Command – Staff
Environment of Care Assessment Toolkit

Environmental Tour – Hazard Surveillance Assessment
Fire Drill – Away From Point of Origin
Fire Drill – Point of Origin
ILSM – Construction Site Inspection
Environment of Care Review
Infection Control & Prevention Assessment Toolkit

CALBSI Compliance Audit – Insertion
CALBSI Compliance Audit – Maintenance
CAUTI Bundle Compliance Audit
Environmental Tour – Infection Control
Hand Hygiene Observation
Infection Control Review