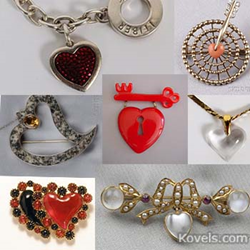 Cleveland, Ohio (PRWEB) February 14, 2017
The antiques experts at Kovels.com love heart jewelry, especially at Valentine's Day. The heart is a classic jewelry theme and the Kovels have listed 7 antique and vintage heart-shaped finds that sold at auction.
Heart jewelry didn't become popular until the 1600s to 1700s, but ancient Greeks believed the heart was the center of human emotion. It represented devotion, love and loyalty. And later, during the Renaissance, hearts were used in religious art, tapestries and paintings, even on playing cards. In the 1700s, it represented other kinds of love – charity, romantic love and love of family. And by the end of the 1800s, it was a design on Valentine's Day cards and postcards. Here are 7 pieces of antique and vintage heart jewelry any Valentine would love.
1. The most famous piece of Bakelite jewelry is the red Bakelite "Key to My Heart" pin, also known as the "MacArthur Heart." It was worn by a model on the cover of the April 28, 1941, Life magazine, and became a popular piece of "sweetheart" jewelry during World War II. Women donated their metal to the war effort and wore plastic jewelry to remember their soldiers. This one sold for $546, but some have sold for more.
2. Witches hearts were an early Victorian token given to a loved one, as a symbol of a "bewitching." A witch's heart made of granite tablets in a silver frame with a citrine accent stone brought $275 in a Boston auction.
3. Lalique made a heart glass pendant. It hangs from an 18-inch 14K gold chain and sold for $185 at a Michigan auction.
4. Judith Leiber is known for crystal beaded purses. But her company also designed jewelry like the bracelet that has a heart-shaped charm with Leiber's signature crystals in red hanging from a chunky 8 1/4-inch sterling silver link chain that sold at auction for just over $300.
5. A 1 1/2-inch Art Nouveau pin is 18K gold with a moonstone heart, seed pearls and tiny ruby accents brought $368 at a Boston sale.
6. A Gripoix double heart pin by Yves St. Laurent in 1965 has red and black pate-de-verre (glass paste) hearts surrounded by pate-de-verre stones. The 3- by 2-inch pin brought $915 at a sale in New York.
7. A buyer with a higher budget took home a gold Cartier pin designed as a target with a coral bull's eye pierced by an arrow with diamond feathers. The 1 1/4-inch pin sold for just over $5,000 in Boston.
Terry Kovel is America's foremost authority on antiques and collectibles. She is the well-known columnist and author of more than 100 books on antiques and collecting. With her daughter, Kim Kovel, she co-authors the best-selling annual Kovels' Antiques and Collectibles Price Guide. The 2017 edition is available at Kovelsonlinestore.com and local bookstores. They will discuss antiques and collectibles topics with accredited media. Photographs are available. Contact pr(at)kovels(dot)com.
About Kovels.com
Kovels.com, created by Terry Kovel and Kim Kovel, provides collectors and researchers with up-to-date and accurate information on antiques and collectibles. The company was founded in 1953 by Terry Kovel and her late husband, Ralph. Since then, the Kovels have written some of America's most popular books and articles about antiques, including the best-selling Kovels' Antiques and Collectibles Price Guide, now in its 49th edition. The website, Kovels.com, online since 1998, offers more than a million free prices, and includes a free weekly email, "Kovels Komments." It gives readers a bird's-eye view of the market through the latest news, auction reports, a Marks Dictionary, readers' questions and answers and much more.
Contact Information:
Liz Lillis
216.752.2252
Pr(at)kovels(dot)com