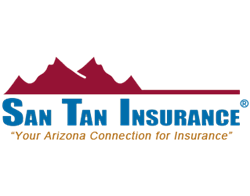 Let us do all the work for you and find the best rates and coverage options for you, your family and business
Gilbert, Arizona (PRWEB) February 15, 2017
John Boughton, Principal of Phoenix-based, independent insurance agency San Tan Insurance, is happy to celebrate over two wonderful decades serving the insurance needs of the people of Arizona.
Mr. Boughton says, "When it comes down to it, insurance is a service industry. I think the reason I've been able to build such a loyal client base, and last as long as I have, is because I remember that. People may be willing to go online to get ideas on pricing, but when it comes down to it, they want the option to meet with a broker in person; someone who answers their questions, who explains the product and policy. In addition, if they ever have to make a claim, having a relationship with their broker makes a difficult time in their lives a little bit easier."
San Tan Insurance is an independent insurance agency. That means that clients come to them and explain their insurance needs – home, auto, business or life – and John helps them find the best quotes and policies to fulfill their needs.
John has also worked to make the San Tan Insurance website a great resource, with articles and FAQs on different types of insurance, what to look for in a policy, what events affect insurance premiums, and more. According to John, these resources are all part of providing the best customer service possible.
"There are a lot of myths out there about insurance," John says. "I'm amazed at some of the stories I hear. Everyone seems to know somebody who swears X, Y, or Z is true. Whatever we can do to make sure that people have the correct information, we're going to do. It's part of our philosophy of providing the industry's best customer service."
John began his insurance career back in 1987 as a claims representative. In 1993, he opened his own agency in Tucson. In 2006, he relocated to Gilbert to become the Principal of San Tan Insurance. For 30 years, John Boughton's mission has been to educate consumers about the insurance industry and be a valuable resource to his customers.
CONTACT:
John F. Boughton
+1 (480) 391-3883
SanTanInsurance.net/contact
SanTanInsurance.net