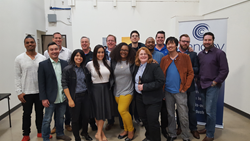 "The Canopy San Diego program was intense yet well-balanced, and gave the participants incredible access to mentors, investors, and industry contacts."
San Diego, CA (PRWEB) February 15, 2017
Canopy San Diego, Southern California's only seed-stage accelerator and investment program for technology and business infrastructure companies that support the legal cannabis industry, is pleased to announce the graduation of its inaugural accelerator program cohort. Each graduating company completed a 16-week cannabis-specific business accelerator program, designed to spur business development and prepare the companies to raise outside capital.
Throughout the program, the participating companies were exposed to over 65 potential mentors, representatives from local venture firms, and key figures within the local entrepreneurial community. Additionally, Canopy San Diego hosted numerous public and private events to increase the participants' exposure to early adopters and potential customers within the local cannabis community, as well as local early stage technology investors.
The program culminated with "Demo Day," a public event held on January 25th, which was attended by over 230 members of the San Diego entrepreneurial and cannabis communities. The event was emceed by former Heisman Trophy winner and local high school football legend Ricky Williams who played 11 seasons in the NFL (New Orleans Saints, Miami Dolphins and Baltimore Ravens) and featured a brief presentation by the Gridiron Cannabis Foundation.
Each company participating in the accelerator program was given office space for up to four employees at the Canopy San Diego offices in San Diego and received $20,000 in seed capital. Four of the companies were selected to receive an additional $40,000 in follow-on funding prior to graduation.
"The Canopy San Diego program was intense yet well-balanced, and gave the participants incredible access to mentors, investors, and industry contacts," said Daniel Hopson, CEO of accelerator graduate LooseLeaf Tech. "It's like an accelerated MBA program for startups covering all topics from market research to financial projections. They even coached us on how to approach investors, and prepared us for more intensive investor due diligence efforts."
The eight companies that graduated:

"We are very pleased with the growth that each of the eight companies has achieved in the last four months," said Eric Gomez, CEO of Canopy San Diego. "This is a challenging environment and we assumed there would be a distribution in performance; however, the entire cohort really came together and developed as a whole. We couldn't be more pleased with the results."
Canopy San Diego is actively recruiting companies to participate in its spring cohort, launching in late March. Specifically, the firm is interested in early-stage technology-based companies that are developing solutions within the following sectors of the cannabis market: Agriculture Technology, Back Office Software Platforms, Certification & Standardization, Consumer Education, Data & Analytics, Digital & Social Media, Energy & Water Technology, Extraction & Processing Technology, Healthcare Technology Platforms, Packaging and Payments & Banking. Additionally, Canopy San Diego is seeking to support women-led and minority-led companies. Companies interested in applying for the spring cohort can submit an online application at http://canopysd.com/apply.
Canopy San Diego is also seeking mentors and investors that are interested in being part of the Canopy team. Additional information for mentors and investors can be found on http://www.canopysd.com.
About Canopy San Diego
Canopy San Diego is Southern California's only seed-stage accelerator program for technology and business infrastructure companies that support the legal cannabis industry. As an accelerator, Canopy San Diego invests cash, mentorship, and services in their portfolio companies to 'accelerate' each company's development. In return, they hold a 6-9.5% equity position in each company and their investors share in the success of the portfolio companies. As part of the greater Canopy ecosystem, along with business accelerators in Boulder and Berkeley, Canopy San Diego has a close partnership with The ArcView Group, which gives startups access to ArcView's network of 625 investor members that have placed more than $103M million into 131 companies. Canopy San Diego does not invest in companies that directly grow or sell cannabis and its derivatives.