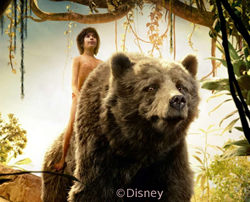 Ten of the twenty contenders for Best Visual Effects utilized Overdrive this year
Beverly Hills, CA (PRWEB) February 13, 2017
The Academy of Motion Picture Arts and Sciences awarded the Overdrive motion system a Science and Engineering Award (2016) at ceremonies this past weekend. Concept Overdrive is additionally proud to announce its role in recent features "The Jungle Book" and "Rogue One," which topped holiday box office charts this season and are both contenders in this years Oscars®.
Overdrive is a computerized system which gives filmmakers a toolkit for problem solving on-set, helping connect the real-world and virtual-world during complex special effects.
On "The Jungle Book," the process of Simul-cam was performed utilizing two Overdrive systems to move a robotic Baloo, Bison, and Elephant atop a six-axis motion base. This process moved Mowgli's body in a realistic manner. Motion and synchronization data were streamed between the real-world machine and the virtual-world of computer graphics on a motion network. Overdrive actually solved the muscular position of the creatures, on-the-fly, from visual effects animations. The process allowed the director of photography to frame the shot and get what he needed in-camera, when visualization would have been otherwise impossible.
On "Rogue One: A Star Wars Story" Overdrive controlled the movements of the hero U-wing® ship of the film which transports the rebels into battle, while numerous X-wings® and TIE fighters® also performed realistic flying maneuvers under Overdrive control. Overdrive additionally prototyped a streaming network between giant spaceship gimbals and motion graphics.
According to oscars.org, "The Scientific and Engineering Award is given for achievements that produce a definite influence on the advancement of the motion picture industry." An award goes "To Steven Rosenbluth, Joshua Barratt, Robert Nolty and Archie Te for the engineering and development of the Concept Overdrive motion control system. This user-friendly hardware and software system creates and controls complex interactions of real and virtual motion in hard real-time, while safely adapting to the needs of on-set filmmakers."
"Ten of the twenty contenders for Best Visual Effects in this years Oscars® utilized Overdrive during production," says Concept Overdrive President Steve Rosenbluth. "Overdrive technology has been used on 70 motion pictures in the last two decades, many in the last year - due in no small part to our partnership with European distributor Moco-FX, Ltd. We're thrilled that the industry has recognized us in this way." http://conceptoverdrive.com