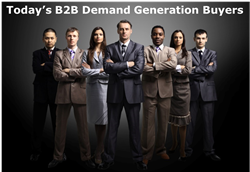 Trying to control Buyers when and where they will look at ads is now a "fantasy." Bob Hennessey-Editor IndustryArchive.Org
Philadelphia, PA (PRWEB) February 15, 2017
BACK-OFFICE BUSINESS SOLUTIONS, INC, unveils an online Resource Community for B2B Professionals IndustryArchive.Org. It is an advancement of B2B Web marketing based on the David "Doc" Searl philosophy that the Internet has created an Intention Economy where Buyers find Sellers, not Sellers trying to find (or "capture") Buyers in the sales process.
"Recognizing that Buyers are in control is critically important for B2B demand engagement. Now Sellers must engage Buyers at the time of their choosing and on their terms," says Robert Hennessey, Founder of IndustryArchive.Org.
B2B Web marketing has changed with over 70% of Buyers using generic searches to find business solutions to their problems. Additionally, Buyers are already 60% on the way to a decision before they contact a Seller according to recent studies, declares Hennessey.
Hennessey continued, this is insightful because this tells us that Buyers are not searching for companies but business solutions. Therefore, it is imperative that Sellers get their business solutions in front of Buyers where they are searching or second chances to engage maybe unlikely.
Hennessey explains Sellers are wasting their time targeting Buyers. Buyers now use a self-directed marketing process that ensures their control over researching, learning and acquiring information to make purchase decisions. Trying to control Buyers when and where they will look at ads is now a "fantasy."
Turning to the role marketing automation plays in Internet marketing Hennessey began explaining the effect of Buyers being in control altering the traditional linear purchase cycle.
It is important to note that Sellers are perplexed by the new buy cycle no longer being linear. Buyers have disrupted the traditional buy cycle and made it non-linear by determining when, where and how they choose to engage on the Internet.
However, marketing automation programmers are still using the old linear sales funnel to dictate Buyer actions as determined by Sellers. The fact that Buyers do not follow a linear sales process is why most marketing automation tools will not work, Hennessey said.
Next, Hennessey addressed how IndustryArchive.Org uses automation.
"IndustryArchive.org uses automation to help Buyers discover information, insights, and solutions based on their criteria. It does not use an algorithm to dictate content paths to capture your contact information," Hennessey stated.
Today's Buyer is self-directed, so dictating how they discover what business solutions are appropriate for them is pointless. IndustryArchive.org focuses on making the Buyers experience as helpful as possible in a resource space that is ad-free, without privacy invasion and features a plurality of ideas reinforcing that the Buyer is in control here, said Hennessey.
So what is the alternative for Sellers on the Internet where Buyers decide how they become informed?
Enter IndustryArchive.Org a B2B engagement platform that claims to facilitate B2B professionals finding viable business solutions and business partners based on the power of knowledge and problem solution selling.
"Buyers learn about business solutions in an environment with no registration, no ads, and without having to exchange their privacy for content. Immediately raising the Buyer's positive perception of the company that sponsored the content," declares Hennessey.
The benefit for Sponsors is what Hennessey calls, "high-quality sales leads." As Buyers find business solutions important to them, they can contact the Sponsors. IndustryArchive.org verifies each lead via phone prior to sending the lead to Sponsors assuring its authenticity and confirming the Sponsor's contact information. Sponsors then decide if they want to purchase that sales lead. There is no obligation to buy the lead.
"Our pay for performance B.A.N.T. quality lead is unique. It includes information on; the specific product or service of interest and the problem needing resolution giving Sales great insights to buyer needs," said Hennessey.
Hennessey concluded, "The insights of David "Doc" Searls combined with problem solution selling make IndustryArchive.org the ideal demand engagement platform to reach B2B Buyers."
For more information, visit http://www.IndustryArchive.Org or call 866-986-0988.