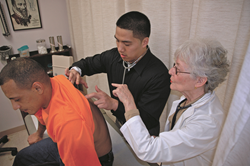 The philosophy behind Henry Schein Cares is a vision of 'doing well by doing good.'
Paterson, NJ (PRWEB) February 15, 2017
Eva's Village announced today that it has received a donation of health care products under a grant from the Henry Schein Cares Global Product Donation Program. Through this program, Henry Schein, Inc., the world's largest provider of health care products and services to office-based dental, animal health and medical practitioners, provides recipient organizations with several health care product donations valued between $5,000 and $25,000 over the course of two years.
The grant will enable Eva's Village to more effectively carry out its mission and expand its ability to provide care to homeless, uninsured and underinsured patients who use its primary medical & dental clinics. Henry Schein Cares aims to expand access to health care for underserved and at-risk populations around the world by promoting wellness, prevention, treatment and education; providing emergency preparedness and relief; and building health care capacity.
In 2016, Eva's medical and dental clinic provided care for 5,208 patient visits, an increase of 82.5% since 2012. "Donated medical supplies make a significant impact by allowing us to allocate more resources to treat patients and help us meet increasing demand for services in our community," said Clinic Administrator, Janiene Diaz-Fasano. "We are grateful for the ongoing assistance we receive from Henry Schein Cares," she said.
About Eva's Village
For 35 years, Eva's Village has been delivering hot meals and supportive services to help thousands of individuals find paths to self-sufficiency. Founded by Msgr. Vincent E. Puma in 1982, Eva's Village began as a soup kitchen, serving 30 meals a day to feed the hungry in Paterson. In response to the related issues of homelessness, poverty, addiction, health and mental illness, Eva's Kitchen soon expanded its scope, adding supportive services to address these needs. Over the years the programs grew into Eva's Village, a non-profit, anti-poverty organization, which today is one of the most comprehensive social service agencies in New Jersey. Eva's Village carries out its mission to feed the hungry, shelter the homeless, treat the addicted, and provide medical and dental care to the poor with respect for the human dignity of each individual. Eva's 20 integrated programs help thousands of individuals rebuild their lives each year by addressing needs in the community for Food & Housing, Medical & Recovery services, and Education & Training programs.
About Henry Schein Cares
Henry Schein Cares stands on four pillars: engaging Team Schein Members to reach their potential, ensuring accountability by extending ethical business practices to all levels within Henry Schein, promoting environmental sustainability, and expanding access to health care for underserved and at-risk communities around the world. Health care activities supported by Henry Schein Cares focus on three main areas: advancing wellness, building capacity in the delivery of health care services, and assisting in emergency preparedness and relief.
Firmly rooted in a deep commitment to social responsibility and the concept of enlightened self-interest championed by Benjamin Franklin, the philosophy behind Henry Schein Cares is a vision of "doing well by doing good." Through the work of Henry Schein Cares to enhance access to care for those in need, the Company believes that it is furthering its long-term success. "Helping Health Happen Blog" is a platform for health care professionals to share their volunteer experiences delivering assistance to those in need globally. To read more about how Henry Schein Cares is making a difference, visit: http://www.helpinghealthhappen.org.