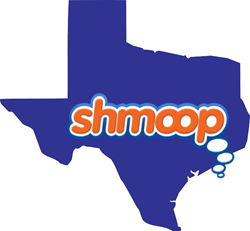 Mountain View, California (PRWEB) April 20, 2017
Whenever Texas does anything, it does it... big. Barbecue. Football. Country music. Add to the list: standardized testing. The Lone Star State tasks high schoolers with completing end-of-course (EOC) assessments, and for those Texan teens looking to go to college, they add one more to the docket: the Texas Success Initiative (TSI) assessment.
Shmoop (http://www.shmoop.com), a digital publisher known for its award-winning test prep and certified online courses, offers online test prep for all of it. They've got distinct prep programs for all of the STAAR® EOC assessments, updated to the latest standards: Algebra I, English I, English II, Biology, U.S. History, and more. Their TSI prep stands alone and has recently received the royal treatment with loads of new drills and two practice exams.
Texas has demonstrated success with Shmoop in the past, with Brownsville Independent School District using Shmoop's AP® exam prep to help it make its way onto the AP Honor Roll. Brownsville ISD Administrator Acacia Ameel attributed the district's success to Shmoop's Online Test Prep. "There's a ton of programs out there," she said, "but Shmoop is so accessible, so easy, and so much fun. Kudos to all of you!"
Students and teachers looking for individual or small-group access can subscribe to Shmoop. By doing so, they will gain access to all of Shmoop's Texas test prep as well as TEKS-aligned online courses and teaching guides. Schools and districts can get bulk discounts on already below-market-rate materials by contacting sales(at)shmoop.com.
About Shmoop
Shmoop offers hundreds of thousands of pages of original content. Their Online Courses, Test Prep, Teaching Guides, Learning Guides, and interactive Study Tools are written by teachers and experts and balance a teen-friendly, approachable style with academically rigorous concepts. Shmoop sees 15 million unique visitors a month across desktop and mobile. The company has won numerous awards from EdTech Digest, Tech & Learning, and the Association of Educational Publishers. Launched in 2008, Shmoop makes the magic happen from a labradoodle-patrolled office in Mountain View, California.
STAAR® is a registered trademark and service mark owned by the Texas Education Agency.
AP is a registered trademark of the College Board, which was not involved in the production of, and does not endorse, this product.