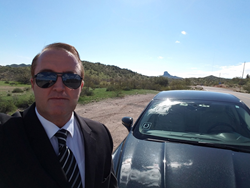 Wickenburg, AZ (PRWEB) February 18, 2017
Uber Ride-Share comes to Wickenburg
It may be a bit "tongue-in-cheek" when Rick Witt refers to the "Greater Wickenburg Metropolitan Area", but having lived and worked in areas of the country like San Diego, Charlotte, and the DC/Baltimore Metro Area, it's a very enjoyable and heart-felt reference..
When the opportunity presented itself to be one of the first Uber Ride-Share partners in the Wickenburg area, Rick jumped at the chance.
Located in Wickenburg provides Rick with the ability to be anywhere in or around town in less than ten minutes. He's already had rides to Phoenix Sky Harbor Airport, Peoria and several to Surprise. His focus will be in the immediate area, but sometimes you just need to be somewhere else!
He is quick to share the many advantages of using Uber and its associated app. "The Uber app allows a rider to see how close a driver/car is, to not have to worry about cash and in our case, to ride in a professionally maintained vehicle with an experienced driver."
The Wickenburg area is home to world-class facilities for tourism, rodeo, rehabilitation and, for some, just relaxation. Rick readily acknowledges his thirty-five years of shoveling snow, chipping ice and being unbearably cold. When asked if the desert heat could be an issue he says "I'd rather sweat than freeze any day!"
Rick is quick to mention that he has been driving for more than four decades. Information that doesn't come up except in serious conversations is that for almost twenty years he competed in both open-wheel and sedan sports car competition.
Information for Wickenburg Ride-Share & Livery Services is available on their Facebook page as well as on the website at http://www.shuttlewickenburg.com.
Rick Witt can be contacted directly by phone or text at 619-607-8476 or email at rickwitt.wickenburg(at)gmail(dot)com
Facebook: Facebook: https://www.facebook.com/Wickenburg-Ride-Share-Service-354124808302010/
Shuttle Wickenburg Website: http://www.shuttlewickenburg.com/