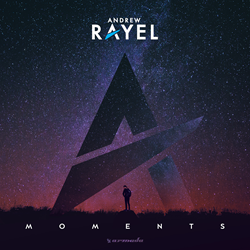 Rayel is ready to release his second studio album, Moments (Armada) on May 5th, accompanied by a world tour. The first single from the album is out now and it's titled, Andrew Rayel featuring Eric Lumiere, "I'll Be There."
New York, NY (PRWEB) February 17, 2017
Unstoppable. Ferocious. Magical. The live DJ-performances of Andrew Rayel are an art form and all the world's a stage. Rayel's ever-expanding legions of admirers have been clamoring for his next full-length studio album since 2014's Find Your Harmony. After a three year period of nonstop touring and stints of intense focus in the recording studio, Rayel is ready to release his second studio album, Moments (Armada) on May 5th, accompanied by a world tour. The first single from the album is out now and it's titled, Andrew Rayel featuring Eric Lumiere, "I'll Be There."
From the angelic vocals of Emma Hewitt ("My Reflection") and Christina Novelli ("Lighthouse") to the swirling thrust of Max Vangeli ("Heavy Love") and KhoMha ("All Systems Down"), Rayel harnesses his music's forward propulsion to get at the core of emotion that ties this album together. Add vocal contributions from Johnathan Mendelsohn ("Forgiven," "Home") and Eric Lumiere ("I'll Be There") and the album is as well-suited for singing along to as it is for dancing. The first single from the album is "I'll Be There" featuring Eric Lumiere, a piano-laden number with reverberating bassline and a bouncy beat that drives the song forward.
The North American leg of the Moments tour kicks-off at Ultra Music Festival in Miami on March 26th on the 'A State of Trance' (ASOT) stage. The tour features headlining DJ-performances at leading concert arenas, music festivals and nightclub venues from coast-to-coast with the first tour dates recently revealed via Andrew Rayel's social media.
Tracklist for Andrew Rayel's Moments:
1. Andrew Rayel - Moments
2. Andrew Rayel ft Eric Lumiere - I'll Be There
3. Andrew Rayel & KhoMha - All Systems Down
4. Andrew Rayel & ATB - Connected
5. Andrew Rayel ft Kristina Antuna - Once In A Lifetime Love
6. Andrew Rayel ft Emma Hewitt - My Reflection
7. Andrew Rayel ft Jonathan Mendelsohn - Forgiven
8. Andrew Rayel & Max Vangeli ft Kye - Heavy Love
9. Andrew Rayel ft Jonathan Mendelsohn - Home
10. Andrew Rayel& Jochen Miller ft Hansen Thomas - Take It All
11. Andrew Rayel - Let It Be Forever
12. Andrew Rayelft Mike James - Back To The Moment
13. Andrew Rayel & Christina Novelli - Lighthouse
14. Andrew Rayel ft Angelika Vee - Never Let Me Go
15. Andrew Rayel - Tacadum
16. Andrew Rayel with Digital X & Geert Huinink ft Sylvia Tosun - Winterburn
Hailed by Armin van Buuren as "the future of trance music," Andrew Rayel (real name: Andrei Rata) is a classically trained electronic dance music DJ and producer from Moldova often referred to as the "modern-day Mozart." As a DJ, Rayel exudes an unbridled enthusiasm for the music he plays and his onstage performances are electric and filled with physical energy. Drenched in a well-earned sweat after every set, Rayel earns his position as a band-leader, stirring up his crowds' passion as much with his music selection as with his bodily vigor. He has DJ'd the world's biggest festivals, including: Ultra Music Festival in Miami; TomorrowLand in Belgium and TomorrowWorld in Atlanta; Stereosonic in Australia; Global Gathering in the UK and other countries; Electric Daisy Carnival in Las Vegas; Electric Zoo in New York; Transmission Festival in various countries; Ministry of Sound in the UK; Dreamstate in San Bernardino; Electronic Family in Amsterdam; Zoukout in Singapore; and Together Festival in Thailand. Rayel is a regular on the lineup at various ASOT stages around the world. Nightclub residencies see him performing onstage at superclubs, including: Marquee Nightclub & Dayclub in Las Vegas; Marquee and Lavo in New York; Ushuaïa Beach Club in Ibiza; Zouk in Singapore and Kuala Lumpur; Escape in Amsterdam; and Ministry of Sound in London.
Listen to Andrew Rayel, Moments, here: https://armd1338.lnk.to/IBT
View the Moments tour dates as they're announced, here: http://www.AndrewRayel.com.
For more information on Andrew Rayel, RedOne, MaRLo, Giuseppe Ottaviani, Price & Takis, Assaf, Eastside Boyz, Lodato, X-Change, Mimo, Harber, and artists like Armin van Buuren, contact EMILY TAN Media Relations (U.S.), +1(917) 318-3758, EmilyEmilyTan(at)aol(dot)com. Follow EMILY TAN Media Relations on Twitter @EmilyEmilyTan and LinkedIn http://www.linkedin.com/pub/emily-tan/4/342/70b.
# # #