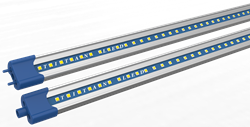 "This incredibly brilliant tube is none other than spectacular. Considering its wattage and lumens output, we believe it to be the best tube on the planet."
Simi Valley, CA (PRWEB) February 15, 2017
Specializing in clean tech lighting solutions, American manufacturer, Titan LED, unleashes a linear tube as part of the Hennessy Series that clearly outshines the competition. These world-class linear tubes utilize a chip that yields an astounding efficacy of 154 lumens per watt in an accredited third party LM-79 report. Hence, the reason why Titan LED integrated an industry leading Lumileds mid-power chip to visibly help drive the light further than the competition without the risk of overheating.
In the LED industry, heat has been identified as a major factor contributing to shorter lifespans and significantly lower levels of light output. For example, if a driver overheats by 10 degrees Celsius it loses half its life and can, almost certainly, lead to premature failures. The team of engineers at Titan LED have worked continuously to address and pair these chronic problems with a sustainable solution. Their answer was to apply a thermal management design to the linear tube via the driver and the heat sink. Titan LED determined the driver is best placed outside of the tube due to the heat it continuously generates. This external driver design was also equipped with dimming capabilities to fully control light levels and further maximize the energy savings. In addition, the use of a mid-power chip versus a low-power chip option has helped Titan LED drive more light while using less chips. Combined with a fully extruded aluminum heat sink, the generous spacing between the chips generate less heat and allows them to breath comfortably without sacrificing the amount of delivered lumens. This feat reiterates Titan LED's commitment to performance over price because our competitors neglect this quality sourcing due to the higher costs incurred. Executing this type of proprietary design has proven to dissipate heat and maximize lumens over the course of its 102,000 hr rated life; an unmatched benchmark within the lighting industry.
"This incredibly brilliant tube is none other than spectacular," says Brian Hennessy, Titan LED's President and CEO. "Considering its wattage and lumens output, we believe it to be the best tube on the planet."
The world-class Hennessy Series linear tube drives over 2,600 lumens with 17 watts of input power to produce an amazing efficacy of 154 versus an industry average of 99. During testing, Titan's tube operated at a junction temperature of 44 degrees Celsius which is significantly lower than traditional lighting solutions that operate at 85 degrees Celsius, if not more. These are all examples of Titan LED's relentless pursuit to deliver excellence through product design, consistent innovation, and progressive technologies.
Finally, Titan's tubes execute several inherent safety features. The mid-power chips are enclosed behind fire retardant polycarbonate lensing to prevent any direct contact. They also utilize quick connect wiring versus hardwired tombstones to carry the voltage to the tube for illumination. The tombstones only serve as mechanical holders which has proven much safer and easier for installers to work with. As Titan LED continues to surpass industry standards in performance and longevity, their customers and linear tubes will continue to outperform the competition.
For more information regarding Titan LED, please visit: http://www.titanledusa.net.
Titan LED is a Inc. 500 manufacturer and distributor based in Southern California. They specialize in Energy Efficiency and Clean Tech LED lighting solutions for schools, hospitals, offices, parking lots, garages, churches, retail stores, gas stations, grocery chains, manufacturing warehouses and much more. They ensure top tier quality by using American made, proprietary components that are pioneered in-house and rigorously tested to meet UL requirements and other industry accreditations. For more information, visit http://www.titanledusa.net or call John Ruscigno at (805) 523-7500.