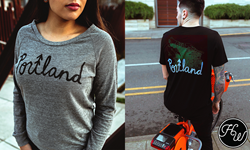 I was born and raised in this town and wanted to develop a line that embodies what Portland is all about.
Portland, Oregon (PRWEB) February 14, 2017
Hipster Wannabe is proud to announce its latest retail collection "The Portland Collection" to its online store hipsterwannabe.com.
Following the successful launch of their online store in November, 2016, Hipster Wannabe founder John Jendritza wanted to bring a nod to his hometown in his new collection. "I was born in this town and wanted to develop a line that embodies what Portland is all about, says Jendritza. "The Portland Collection uses custom hand-lettered artwork I created along with a custom-illustrated Portland City map which displays the authenticity of the city I love and have lived my entire life. "The product line is one-of-a-kind and my customers can feel proud about wearing something that is designed, created and produced all in the Rose City."
Hipster Wannabe is committed to creating the highest quality, locally sourced product. All t-shirts are made in the USA out of Los Angeles and all printing, embroidery and finishes are done in Portland, Oregon. A careful, diligent approach to all manufacturing steps is managed personally by Jendritza himself along with a hand-picked team of local screen and stitch experts.
About
Hipster Wannabe was launched in 2016 by John Jendritza after spending twenty years as a designer, creating beautiful things for his clients out of his Portland-based creative studio Glow Creative. Like most design agencies, what struck John over and over again was how many awesome designs were left on the cutting room floor. According to Jendritza, Like many of us, he didn't have time to be a true Hipster, devoting countless hours to sifting through racks of vintage clothing looking for the perfect tee. So instead, he decided to take the best of his creative mojo (and overlooked designs), and put them on the most comfortable and sustainable clothing he could produce, allowing everyone to dress as well as our fashion-forward hipster friends.
Visit Hipster Wannabe to get more information.
###