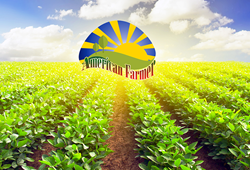 Jupiter, FL (PRWEB) February 13, 2017
American Farmer proudly announces a new episode airing on Tuesday, February 14, 2017 at 8:00 am ET on RFD-TV.
With a passion for developing self-sustaining businesses in impoverished areas, Bait Mavericks provides more people with access to jobs. The show will educate about the latest in 3-D precision bait mold technology, and how this – along with the company's dedication to giving back – is reinventing bait manufacturing.
Traveling to Batesville, Arkansas, American Farmer explores Intimdator's class leading, American-made utility vehicles, which offer more unparalleled strength, power, and performance than any other utility vehicle in their class. Specifically built for working, hauling, and hunting, this all-welded steel machine is revolutionizing the industry.
With a limited supply of food for wildlife, Wilderness Calls provides a solution to help wild deer feed the way nature intended. Join the team to learn about the Double D Gravity Deer Feeder, which helps users supply a healthy supplemental feed to deer in the wild.
"American Farmer is dedicated to exploring the most innovative and groundbreaking changes taking place across the industry," said Jennifer Tierney, Producer for the American Farmer series. "We look forward to highlighting the latest transformations taking place."
About American Farmer:
American Farmer is a breakthrough program on a mission to showcase the latest advancements in agriculture and farming. From seed to harvest, livestock and more, our producers have traveled the country covering the people, places and issues impacting all areas of farm country.
American Farmer airs Tuesdays at 8:00am ET on RFD-TV. Check your local listing for show times. For more information visit: http://www.AmericanFarmerTV.com or contact Jennifer Tierney at (866) 496-4065 x 875 or via email at: Jennifer(at)AmericanFarmerTV(dot)com.