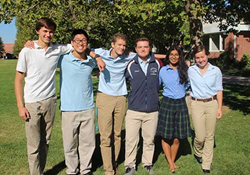 (PRWEB) February 14, 2017
Six Waterford School seniors have been named as Finalists in the 2017 National Merit Scholarship Program. Lucas Briggs, Talbot Child, Sophia Gauthier, Randy Quarles, David Shen, and Alyssa Varghese are among one percent of high school students in the United States to be awarded this honor.
This year, 15,000 finalists were named in the National Merit Scholarship Program's 61st competition. A total of 1.5 million high school juniors initially entered the competition by taking the 2015 Preliminary SAT (PSAT) test.
To become a finalist in the National Merit Scholarship Program, students submitted detailed scholarship applications that included information about their academic records, co-curricular activities, leadership abilities, honors, awards and employment.
In March, the National Merit Scholarship Corporation (NMSC) will notify the 7,400 finalists selected to receive Merit Scholarship awards, worth $32 million.
The Waterford School
The Waterford School is a top college prep, liberal arts private school enrolling preschool and kindergarten, elementary, middle school and high school students from Salt Lake City, Holladay, Sandy, Draper, Park City, Utah County and throughout the Wasatch front.