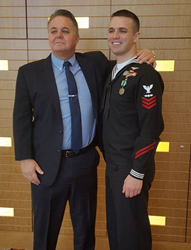 "The medal is earned when an individual distinguishes himself by heroic or meritorious achievement..."
Norfolk, VA (PRWEB) February 15, 2017
LifeCenters Development Group's Chief of Staff, Jim Britt, spent over 12 years in the US Navy as a Deep Sea Diver, leaving military service as a Chief Petty Officer. His son, Eric Britt, has been serving in the navy for the last 10 years and has earned the high honor of being named Sailor of the Year (SOY) at his command. Eric was then selected from among over 44,000 military personnel from 190 commands as one of 6 finalists for SOY of the Atlantic Fleet, in the seagoing aviation community.
Since joining the navy in 2006 he has trained for and become an expert in Aviation Electronics (AE). Today 1st Class Petty Officer Eric Britt has oversight of maintenance on MH-60 Knighthawk helicopters at Helicopter Sea Combat Squadron 26 (HSC-26) in Norfolk, Virginia. The Knighthawks are the Navy's version of the Army's "Black Hawk" and are used in support of combat operations and fleet support services around the world.
While Petty Officer Britt was not ultimately selected as the SOY for the Atlantic Fleet the distinction of being a finalist reflects the commitment to excellence he displays every day; the navy calls that, "sustained superior performance." Only 1 in 7500 sailors qualify for this honor and it is an accomplishment that will follow him for the remainder of his career.
During the ceremony Eric was awarded the Navy & Marine Corps Commendation Medal by Admiral Bruce Lindsey, Commander of Naval Air Atlantic Forces. The medal is earned when an individual distinguishes himself by heroic or meritorious achievement or service. To merit this award, the acts or services must be accomplished or performed in a manner above that normally expected and sufficient to distinguish the individual above those performing similar services.
LifeCenters salutes AE1(AW) Eric Britt and extends a well-deserved "Thank You" for his exemplary service to our country. Sustained superior performance is something the LifeCenters team is well familiar with and it seems to run in the family.