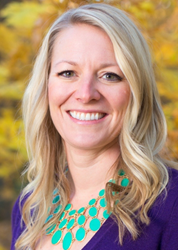 Mt. Horeb, WI (PRWEB) February 13, 2017
In honor of Gum Disease Awareness Month, Dr. Angela Cotey invites new patients to receive minimally invasive periodontal treatments, with or without a referral. Patients with untreated gum recession are more likely to develop gum disease in Mt. Horeb, WI, than those who seek treatment for their receded gums. As a highly-experienced dentist, Dr. Cotey is proud to offer gentle treatment with the Chao Pinhole® Surgical Technique as an alternative to invasive gum recession treatments.
Gum recession and gum disease in Mt. Horeb, WI, are very common conditions, but many patients are unaware of the link between the two. When the gums recede too far, tooth roots are exposed to the harsh environment of the mouth and more likely to develop gum disease. Dr. Cotey is a highly-trained dentist who offers a minimally-invasive treatment option for gum recession called the Chao Pinhole Surgical Technique.
During this gentle procedure, Dr. Cotey creates a hole approximately the size of a pinpoint in the gums directly above the receded area. Once a hole has been made in the gum tissue, Dr. Cotey is then able to carefully lift the gum tissue from the teeth and move it until it covers an appropriate surface area of the teeth.
This procedure can be performed very quickly, and the end result is an aesthetically appealing gum line that no longer shows signs of recession and maintains proper oral health. Due to the unique nature of the procedure, no stitches are needed and recovery is very quick and gentle. Most patients are able to resume regular, non-strenuous activities as soon as they leave the office.
Dr. Cotey encourages patients who have gum recession to reduce their chances of developing gum disease in Mt. Horeb, WI, by receiving gentle gum recession treatments during Gum Disease Awareness Month. Appointments with the respected dentist can be scheduled by calling Village Smile Care at 608-433-2102.
About the Doctor
Dr. Angela Cotey is a general dentist offering personalized dental care to patients in Mount Horeb, WI. Dr. Cotey and her entire team take pride in offering the latest advancements in dentistry and dental technology to ensure each patient enjoys a comfortable experience with long-lasting results. Dr. Cotey combines advanced dentistry with a fun and friendly style. She is a member of numerous professional organizations including the American Dental Association, the Wisconsin Dental Association, American Academy of Cosmetic Dentistry, Fellow in the Academy of General Dentistry and current President of the Wisconsin Dental Study Club and Madison Dental Progress Forum. To learn more about Dr. Cotey or the services she offers, please visit her website at http://www.villagesmilecare.com or call (608) 433-2102 to schedule an appointment.