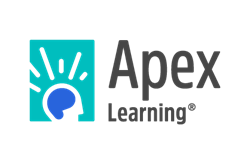 Seattle, WA (PRWEB) February 14, 2017
Apex Learning, known for making rigorous, standards-based content accessible to all students, is pleased to announce a certification partnership with WebbAlign from the Wisconsin Center for Education Products and Services. The WebbAlign DOK Partner Certification includes a process guided by Dr. Norman Webb and his team to implement the Depth of Knowledge (DOK) framework to help verify the alignment of Apex Learning's content to learning standards. By effectively applying DOK, Apex Learning can ensure that assessment questions and learning tasks are engaging students at the intended level of DOK.
"The WebbAlign certification validates our commitment to achieving alignment between standards, instructional content and assessments," said Cheryl Vedoe, CEO, Apex Learning. "This certification is further recognition of our approach to creating high quality digital curriculum, giving educators confidence that when they choose Apex Learning they are making a sound choice."
The WebbAlign DOK Partner Program has become the industry standard for education content providers focused on offering standards-aligned learning materials to educators.
"We are pleased to be working with Apex Learning to support the company's focus on providing appropriately complex learning opportunities for all students," said Dr. Norman Webb, founder of WebbAlign, "We look forward to working with Apex Learning and appreciate the company's focus on using DOK to improve alignment to standards."
For more information about Apex Learning Comprehensive Courses, Tutorials or WebbAlign DOK certification, please visit http://www.apexlearning.com or contact 1.800.453.1454.
About Apex Learning
Apex Learning puts rigorous, standard-based curriculum within reach for all students—from those struggling to those capable of acceleration—to prepare them for the next course, the next stage in their education, work and life. Schools use Apex Learning digital curriculum because it is proven that more learning happens with the powerful, actionable data that gives educators insight into student performance, and the personalization and engagement students need to succeed. During the 2015-2016 school year, there were more than three million enrollments in Apex Learning Comprehensive Courses for original credit and credit recovery and Adaptive Tutorials for intervention, remediation, and to prepare for high-stakes assessments.Headquartered in Seattle, Apex Learning is accredited by Advanced and its courses are approved for National Collegiate Athletic Association eligibility. For more information, visit http://www.apexlearning.com or call 1.800.453.1454.
About WebbAlign
Dr. Norman Webb, Sara Christopherson, and the Wisconsin Center for Education Products and Services (WCEPS) created WebbAlign to provide services based on Dr. Webb's Depth of Knowledge Framework and Content Alignment Process. WCEPS disseminates the innovative educational products and services created at the University of Wisconsin-Madison. Separate from, but affiliated with, the university, WCEPS extends the impact of the university's educational innovations to support further research and development.