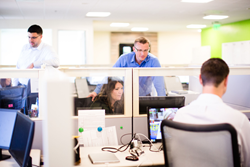 Our cloud-based solution removes all version control issues, the need for fax machines, as well as removes the need for internal sales team mobilization.
Carlsbad, CA (PRWEB) February 15, 2017
Novasyte – the outsourcing commercial services experts in the med-tech space – is excited to expand their service offering and introduce their new S.M.A.R.T. Recall Program.
Providing closed-loop management for FDA recall, correction and removal support, Novasyte now supports their med-tech clients by managing all levels of field actions in their cloud-based system – from software upgrades, to stock recovery, market withdrawal, and Class I, II and III recalls.
Conceptualized in early 2013, the S.M.A.R.T. Recall Program was developed in response to the growing challenges med-tech companies face when managing medical device recalls internally. A deviation from their core competency of manufacturing and selling, med-tech companies are facing increasing pressures around quick mobilization, scalability, and systems integration when working with paper forms, fax returns, and spreadsheets. Further, they are challenged to accurately track per-unit activity in real-time to meet their FDA reporting needs.
Novasyte, in studying the industry trends, has developed a cloud-based recall program that automates all of the necessary activities to complete a recall – significantly reducing the time to close. The platform tracks every activity and associated cost in real-time – from initial notification, to consignee acknowledgement, remediation, and effectiveness check validation. This offers real-time access to an analytics dashboard with overall recall status, and accurate consignee and account data.
"After identifying and witnessing the trends, we built the S.M.A.R.T Program to offer a more flexible and effective solution to how recalls are currently being managed," said Tim Gleeson, Novasyte CEO. "Our cloud-based solution removes all version control issues, the need for fax machines, as well as removes the need for internal sales team mobilization. We're shifting the way recalls are being managed by tracking and measuring all of the activities on to our integrated, cloud-based platform, and we couldn't be more excited about the preliminary results."
Initial piloting of the S.M.A.R.T. Recall Program has delivered measurable results. In one instance, with more than one million units affected, Novasyte obtained 50 percent consignee acknowledgement within eight-weeks with minimal-to-zero field involvement. Within 12-weeks, Novasyte completed three notification attempts to 100 percent of the consignees and surpassed all FDA compliance requirements.
Novasyte's unique ability to accurately track, manage and measure every activity, including field-team deployment, now also extends to collection and warehousing of the affected product.
To watch a 60-second video of the program, request a personalized demonstration, or learn what S.M.A.R.T. stands for, click here.
To learn more about Novasyte, visit novasyte.com.
About Novasyte
Novasyte partners with med-tech companies, offering outsourced contract teams for clinical, field technical and recall support. Our flexible model enables us to build, deploy and manage teams that expand and contract to meet our clients' customer-facing needs. Program success is tracked and measured with our real-time business intelligence analytics that provide our clients with critical insights into their most important resources - their people and their customers.