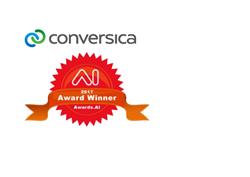 Foster City, Calif. (PRWEB) February 14, 2017
Conversica, the leader in artificial intelligence-powered business conversations, announced today that its flagship product, the Conversica AI Sales Assistant, has won the annual Awards.AI Global Achievement Award for Artificial Intelligence, recognized as Best AI in the Enterprise.
The Conversica AI Sales Assistant was honored for leveraging AI to revolutionize the sales process. The Conversica platform has powered millions of human-like conversations on behalf of tens of thousands of sales representatives worldwide, doing so with a 95 percent autonomous message handling rate.
"Conversica is honored to be recognized by Awards.AI and the AI community," said Werner Koepf, SVP of Engineering at Conversica. "At Conversica we apply best-of-breed natural language processing and natural language generation to solve real-world lead generation and nurturing challenges. It's an innovative solution to a real business problem, and, as a result, we are enjoying unparalleled success and recognition."
In addition to its flagship AI Sales Assistant, Conversica has developed AI-powered assistants that automate other important business conversations, including customer service management and customer success management.
Awards.AI, the first and biggest global annual achievement awards for artificial intelligence, celebrates the various achievements of the AI community in developing new algorithms, products and services across different categories and industries.
Other awards and honors recently received by Conversica include the AWA Award for Excellence in Fixed Operations Process by PCG Consulting, the Inc. 5000 List of America's Fastest Growing Private Companies, and the CRM Excellence Award from CUSTOMER Magazine.
About Conversica
Conversica is the leader in AI-powered business conversations and the only provider of AI-driven lead engagement software for marketing and sales organizations. The flagship Conversica® AI Sales Assistant helps companies find and secure customers more quickly and efficiently by automatically contacting, engaging, qualifying and following up with leads via natural, two-way email conversations. Conversica is used by more than 16,000 salespeople worldwide to optimize sales team productivity. Recognized by Gartner as a Cool Vendor, Conversica is a portfolio company of Providence Strategic Growth, Kennet Partners and Toba Capital and is headquartered in Foster City, Calif.
To learn more, visit conversica.com and follow the company on Twitter, LinkedIn and Facebook.
About Awards.AI
Awards.AI is the first and biggest global annual achievement awards for artificial intelligence. Our focus is to support the AI community by recognizing the hard work and dedication of those working in the field. This year we have awarded across 17 categories, highlighting achievements in a number of industries and ranging from start-ups to established companies and individuals.
Founded in 2015, Awards.AI is part of the Informed.AI Media Group, which runs a number of community websites supporting the area of Artificial Intelligence. Our manifesto is to help support those interested to learn more about the field of AI, from students to academic researchers and everyone in-between. Other websites in our network include homeAI.info, Events.AI and Neurons.AI.
Contact:
Sara Black
Bospar
(213) 618-1501
sara(at)bospar(dot)com
###