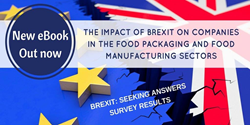 (PRWEB UK) 15 February 2017
The decision to leave the EU has caused a shock wave across the UK, Europe and elsewhere in the world. The full impact it will have on business is yet unknown but the decision to leave the European Union has already had a major effect on the value of sterling.
The Alexir Partnership set out to understand the issues and challenges businesses in the food packaging and food manufacturing are facing, or planning for, during these expected changes in the marketplace. It goes without saying that the longer businesses are in the grips of market uncertainty around the exit process, the longer it will take for businesses to recover from the likely impact.
Alexir now have the pleasure of announcing the results of a BREXIT survey carried out amongst professionals in the food packaging and food manufacturing sectors. Hopefully the results will give some guidance on the key issues, the priorities and how other people in the industry are preparing for this. Key challenges highlighted by the respondents include:

Coping with volatility of the currency markets
Managing the Supply Chain
Dealing with the regulatory changes
Maintaining access to talent in the single market
To read the full results of the survey click here to download the eBook.
Or visit the Alexir Partnership on stand G33 at the Packaging Innovations Show March 1-2 at the NEC in Birmingham.
Click here to register for the show.
About the Alexir Partnership
The Alexir Partnership is the only UK Business in the food sector that can create, package and pack your products from design to delivery within one business. To find out more about our five specialist businesses click here to see our website.