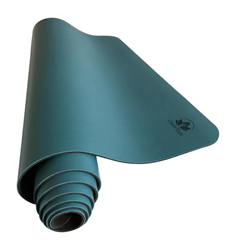 Yoga is the journey of the self through the self to the self.
Tampa, Fl (PRWEB) February 16, 2017
Back by Popular Demand!
Yoga fans all around have been waiting for this day, and it is finally here! The insanely popular Clever Yoga premium yoga mat is back in stock after quickly selling out at the Yoga Journal Hollywood conference.
In response to customer demand, CleverYoga has restocked its premium non-slip, ecofriendly and durable yoga mat, that is especially popular for fans of power and hot yoga. The LiquidBalance mat solves the biggest complaint of yoga practitioners – being distracted and feeling unsteady on a slippery surface during flow classes, standing poses and inversions.
Yogis no longer have to worry about slipping and sliding. This mat will keep users safe while allowing them to practice even the most complex maneuvers. In addition to the additional grip, this mat will also protect the user's joints and muscles. The soft, dense cushion gives the perfect amount of resilience, give and support.
The LiquidBalance mat is unlike any other yoga mat. It has been extensively tested by experienced yoga instructors and students who all preferred this mat to all others they had used in the past. They loved the comfort and commented on the noticeable difference in support and grip.
LiquidBalance's top layer is polyurethane, which quickly dries moisture so the surface is non-slip, smooth and safe. The bottom layer is made of environmentally friendly natural tree rubber. The tree rubber is 100% biodegradable and naturally and sustainably harvested. Unlike other mats on the market, the layers are heat bound; no toxics glues are used. The mat is 72.8 inches long x 26.8 inches wide. It is lightweight and easy to clean.
"The CleverYoga team is always looking for new and better ways to create and offer yoga products for our community," says Ellie Teng, CleverYoga CEO. "The LiquidBalance mat solves the problem of slipping on a wet mat. The mat also is a choice for people concerned about the environment. We're very excited about the enthusiasm for this new mat."
About Clever Yoga 
Clever Yoga is an innovative woman-owned and operated company, based in Tampa, Fla.
Clever Yoga aims to offer superior, reliable products that make a difference in customers' lives. The Clever Yoga team uses meticulous market research and strict quality control and testing to create high-quality products.
Recently, the company has launched an online store using the largest online retailer, Amazon, as their platform. CleverYoga's online store can be found on Amazon.
Established in 2014, Clever Yoga's mission is to provide reliable, high quality yoga equipment, as well as excellent customer care.