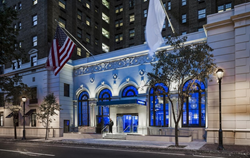 "With the ever-changing healthcare landscape, it only made sense to make this an annual event. Our clients rely on us to be on the forefront of evolving evidence and its application in healthcare and we're pleased to offer them this event again in 2017."
Lansdale, PA (PRWEB) February 15, 2017
Hayes, Inc., a leading provider of unbiased health technology assessments and consulting services, is proud to announce its second annual Client Symposium. The gathering brings together health plan professionals for accredited continuing education seminars as well as the opportunity to network with their industry peers and meet with Hayes staff.
"Last year's inaugural symposium was a rousing success," says Hayes Founder and CEO, Winifred Hayes, RN, PhD, ANP. "With the ever-changing healthcare landscape, it only made sense to make this an annual event. Our clients rely on us to be on the forefront of evolving evidence and its application in healthcare and we're pleased to offer them this event again in 2017."
The Client Symposium will be held Thursday, October 5 – Friday, October 6 at the Warwick Rittenhouse Square, in Philadelphia, PA. Educational sessions this year will include*:

Clinical Validity, Analytical Validity, and Clinical Utility: Defining the Pillars of Genetic Testing
Predict, Plan, Protect: Disruptive Technologies and their Effect on Coverage Determination
The Missing Link: Using Evidence to Get Payers and Providers in Sync
Eyes on the Future: Pharmacogenomics
Applying CERs to your Coverage and Reimbursement Decisions
Genetic Testing: Taking the Next Steps to Merge Our Visions
The Outlook of American Healthcare
*Speakers and topics subject to change.
In the coming months, Hayes will announce their finalized scheduled speakers list, which will include leaders from the company's clinical analyst teams, panel discussion members, and industry experts in the fields of evidence, health technologies, and genetics.
"We are thrilled about every aspect of our second event," says Dr. Hayes. "It doesn't seem possible that we'd top the success of our first symposium, but with the excellent feedback and suggestions we received, we're sure to exceed all expectations. From the new venue, to our own Hayes experts and presenters across the healthcare industry, our clients can expect an enjoyable and productive two days."
ABOUT HAYES
Hayes, Inc., an internationally recognized leader in health technology research and consulting, is dedicated to the delivery of high-quality healthcare and improved outcomes through the integration of evidence into decision making and policy development. The unbiased information and comparative-effectiveness analyses we provide enable evidence-based decisions about acquiring, managing, and paying for health technologies. Our worldwide clients include hospitals, healthcare systems, government agencies, health plans, and employers. For more information about Hayes, Inc., visit http://www.hayesinc.com. Follow us on LinkedIn, Twitter, and Facebook.