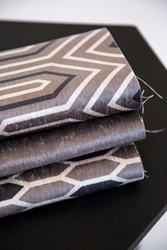 "WeaveUp allows us to efficiently deliver custom samples on any cloth within 48 hours." said Gary Price, founder of Materialised. "Even original designs created and uploaded by our clients can be printed within hours."
Durham, NC (PRWEB) February 15, 2017
WeaveUp's partnership with Australian textile specialist Materialised confirms significant interest in textile customization in the contract market. "Materialised understands that the ability to deliver customized, printed samples to their clients within days, not weeks, has an enormous impact on the entire sales process." said Flint Davis, President of WeaveUp. "The WeaveUp platform gives everyone the ability to change color, scale or repeat creating an infinite design library."
WeaveUp's unique ability to provide an accurate color match on thousands of customizable designs dramatically shortens sampling time for designers specifying custom fabrics. "WeaveUp allows us to efficiently deliver custom samples on any cloth within 48 hours." said Gary Price, founder of Materialised. "Even original designs created and uploaded by our clients can be printed within hours."
Demand for customization in surface design applications (textiles, wallcoverings, flooring, etc.) is rapidly increasing as digital printing of these materials disrupts traditional printing processes.
Materialised joins other industry-leading companies who have recently partnered with WeaveUp. Koroseal Interior Products (one of the world's leading manufacturers and distributors of contract wallcoverings) and Valley Forge Fabrics (a leader in domestic hospitality textiles) both use WeaveUp to provide custom solutions to commercial and hospitality designers.
ABOUT MATERIALISED
Materialised, a leader in the Australasia contract furnishing market, collaborates with customers to provide innovative textile solutions. While active across all markets, Materialised enjoys a preferred supplier status in the Hospitality, Healthcare and Education verticals. Materialised, a family owned Sydney based company, has a proud 36 year history of providing unsurpassed service throughout Australia and New Zealand. Visit http://www.materialised.com to learn more.
ABOUT WEAVEUP
WeaveUp's Design Library and proprietary software allow professional designers and consumers to completely customize thousands of designs (changing color, scale and repeat) and have them digitally printed on multiple substrates. Users can also create new designs by uploading their own art. The tools are intuitive and the process takes minutes, not months to create the "perfect" design. WeaveUp. Settle for perfect.TM For more information, please visit https://weaveup.com/our-mission/ or https://weaveup.com/partners/
###