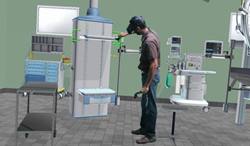 Virtual Reality significantly changes how we communicate, educate, and present our customizable solutions to prospective buyers at trade shows. - Craig Wassenaar, President at Skytron
Minneapolis, Minnesota (PRWEB) February 16, 2017
Axonom, a global provider of visual product configurators, today announces it will join Gold Sponsor Skytron for the unveiling of its Virtual Reality Operating Room Design Exhibit at the ACE Summit and Reverse Expo in Atlanta, GA, on February 20-22, 2017.
Skytron is featuring a virtual reality (VR) station for conference attendees to explore operating rooms furnished with its medical products. The virtual reality experience, powered by Axonom's Powertrak VRoom, transports healthcare planners and designers directly into a virtual environment where they can see and interact with Skytron booms, lights, tables, and other medical equipment.
"Virtual Reality significantly changes how we communicate, educate, and present our customizable solutions to prospective buyers at trade shows," said Craig Wassenaar, President at Skytron. "It gives designers and decision makers an immersive, first-hand experience how our equipment fits and operates in various healthcare environments. The combination of working with our sales team, visualizing the layout, and experiencing our products in real-time will speed the design-to-quote process, resulting in increased customer satisfaction, revenue and margin."
In addition to sponsoring the event, Skytron welcomes conference attendees to the Lunch and Learn session "Operating Room Design and Key Points" in the Chastain G & H rooms on Monday, February 20th. Led by industry expert, Brian Grant, attendees will earn CEU credits for learning how to reduce operational cost, improve quality of patient care, increase efficiency, and support OR versatility for the future.
Skytron is also hosting a cocktail hour for attendees on Tuesday, February 21st. This event features the virtual reality exhibit, a demonstration on designing healthcare environments using Powertrak 3D Product Configurator, and an introduction to the company's enhanced architect and planner website.
"Because Skytron is virtually bringing a designed OR suite to the show, healthcare systems and hospitals with little-to-no knowledge of Skytron products will become more informed, engaged, and comfortable with its medical equipment in their footprint prior to construction and installation," said Mike Belongie, COO at Axonom.
About Skytron, LLC
Founded in 1972, Skytron is a global leader in healthcare equipment and technology. The company's comprehensive approach provides clients with state-of-the-art, end-to-end clinical solutions that help healthcare facilities improve efficiency, reduce costs and, most importantly, advance the quality of patient care. With its uniquely designed product portfolio, Skytron addresses the dynamic needs of the healthcare environment through a complete circle of solutions.
About Axonom
Axonom is a worldwide leader in marrying Visual Configure, Price, Quote (CPQ) software with Virtual Reality (VR) experiences. Established in 2002, the developer of Powertrak 3D Product Configurator and VRoom enables sales, channel partners, and customers around the world to visually build products and design environments, then experience it in virtual reality.
Enriched with mobile extendibility, the Powertrak solution suite includes: Configure-Price-Quote, 2D/3D Visual Product Configurator, Virtual Reality Product Configurator, Guided Selling, and Web Portals. By delivering more transactions more efficiently through channels at a lower cost, Powertrak helps customers achieve greater profit potential. For more information, please visit http://www.axonom.com.