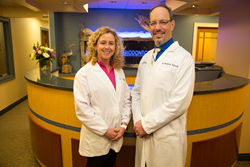 New London, CT (PRWEB) February 14, 2017
In honor of American Heart Month, Drs. Gregory Toback and Marianne Urbanski are helping their patients understand the relationship between periodontal disease, heart disease and other systemic health problems. Research shows that people with untreated gum disease are at greater risk for developing or exacerbating heart conditions. Fortunately, Drs. Toback and Urbanski, who are respected periodontists in New London, CT, are now accepting new patients for the LANAP® protocol, a leading form of laser periodontal disease treatment.
Although further research into the link between periodontal disease and heart disease is needed, current findings suggest that the chronic inflammation resulting from periodontal disease can put victims at risk for various serious health problems. In addition to heart disease, these conditions include stroke and diabetes.
Studies have also shown that gum disease can have adverse effects on existing conditions, including worsening heart disease and making it more difficult for diabetics to manage their blood sugar. Many Americans may be at risk for these complications. As the Centers for Disease Control and Prevention states, over 47 percent of U.S. adults over the age of 30, or more than 64 million Americans, suffer from periodontal disease.
To help address this risk, Drs. Toback and Urbanski, who specialize in periodontal procedures, are making the LANAP protocol available to more patients. This procedure, which uses a dental laser rather than traditional surgical tools, removes diseased gum tissue without incisions or sutures. Due to the minimally invasive nature of this technique, the risk of complications that require further care from a periodontist in New London, CT, is very low. With this procedure and appropriate follow-up care, the doctors can stop the progression of periodontal disease and help patients avoid related complications.
For further information about the LANAP protocol and its benefits, patients can visit the website of Shoreline Periodontics at http://www.shorelineperio.com. New patients who are ready to schedule consultations about gum disease treatment with a periodontist in New London, CT, are also welcome to directly call the office at 860-443-2428.
About the Practice
Shoreline Periodontics is a periodontal practice offering personalized dental care for patients since 1998 and is located in New London, CT and Westerly, RI. Leading periodontist, Dr. Gregory A. Toback, received his B.A. from St. John's University and his Doctorate of Dental Medicine from the University of Connecticut. He also received advanced training in periodontics and dental implants at the University of Texas Health Science Center in San Antonio. Dr. Toback focuses on minimally invasive surgeries, offering the LANAP® protocol and belongs to a small group of dental professionals currently providing the Chao Pinhole Surgical Technique™ for treatment of gum recession. Dr. Marianne Urbanski has been voted one of Connecticut's top dentists for more than seven years by Connecticut Magazine. Dr. Urbanski graduated cum laude from the College of Holy Cross in Worcester, Massachusetts where she earned a Bachelors' degree in Biology. She also received her Doctor of Dental Medicine degree and her Masters' of Dental Science degree from the University of Connecticut Dental School. Dr. Urbanski prides herself on offering caring, professional care to each patient. To learn more about Shoreline Periodontics and their dental services visit their website at http://www.shorelineperio.com or call 860-443-2428 for the New London, CT location, or 401-596-0000 for the Westerly, RI office.