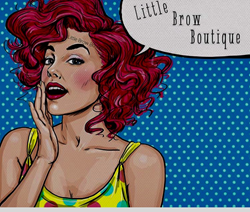 Long Island women (and men) will have an entirely new way to access the latest beauty treatments like brow extensions, specialty waxing, makeovers, body bleaching and Botox when Little Brow Boutique opens on April 8 in downtown Babylon Village
Babylon, New York (PRWEB) February 15, 2017
Long Island women (and men) will have an entirely new way to access the latest beauty treatments like brow extensions, specialty waxing, makeovers, body bleaching and Botox when Little Brow Boutique opens on April 8 in downtown Babylon Village. The fun but luxurious-styled storefront will open next door to Little Lash Boutique, Long Island's popular eyelash and eyebrow extension salon, as a more casual sister salon specializing in eyebrows and more.
Owner Joann Donnelly explains that Little Brow Boutique will be a transformative and relaxing space for clients to come in and receive a miniature makeover for the day, whether it's a professional eyebrow transformation, which can mean expert shaping, sculpting, tinting or even extensions, help with strip eyelashes to finish off a night-out look, or four different types of body waxing including sugaring. Eyebrow experts will craft "day brows" for clients, using cosmetics or extensions to craft a perfect eyebrow shape. The beauty bar will also specialize in intimate body bleaching, Brazilian waxes for women and men, men's eyebrow and body waxing and facial threading. The services will be walk-in friendly, giving clients more options when it comes to accessing the latest in professional beauty expertise.
While anchor storefront Little Lash, Boutique is by-appointment and a quiet environment, Little Brow Boutique will be a more casual and rejuvenating space, where clients come in and choose from a "menu" of beauty services. The Brow Boutique will host bridal parties, eyebrow and makeup tutorials, and feature heated recliners as an alternative to hard spa tables. "The feeling will be very Manhattan and walk-in friendly. We are building on our reputation for quality," explained Donnelly. Express facials will be customized for each client, and feature organic and natural products. "Edible facials" use ingredients such as oranges, strawberries and coconut oil. Included with every facial is a take-home bag of carefully curated products for each client's specific skin needs. Botox and injectable brow lifts will be available by appointment.
The grand opening of Little Brow Boutique is slated for April 8, 2017, and a grand opening party will be held at noon at the store location, 23 Deer Park Avenue, Babylon. The salon will offer free brow shaping all day, as well as 20% off products and half-off eyebrow sculpting and tinting.
About Little Lash Boutique and Little Brow Boutique Little Lash Boutique has specialized in individual eyelash extensions since 2013 and has been selected as a spa finalist for the 2015 Best of Long Island awards. Find out more at http://LittleBrowBoutique.com. Little Brow Boutique is located at 23 Deer Park Avenue Babylon, New York 11702, 631-245-7028. Little Brow Boutique is located at 23 Deer Park Avenue Babylon, New York 11702, 631-245-7028.