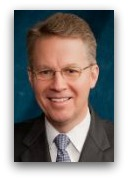 "As healthcare delivery transforms from fee-for-service to value-based care, and MACRA and MIPS are fully implemented, PCPI is exceptionally positioned."
Chicago, IL (PRWEB) February 15, 2017
PCPI, a recognized leader in health care improvement has recently named Kevin Donnelly as CEO and executive director. Mr. Donnelly brings more than thirty years of experience as a health IT and business executive. He is focused on leading the PCPI on a path of growth in membership and utilization of PCPI products and services. An additional area of focus for Mr. Donnelly will be in building strategic alliances with member organizations and industry, such as technology-based partnerships, that help further PCPI's mission.
Dr. John McIntyre, PCPI board chair, offered praise on Mr. Donnelly's selection. "Mr. Donnelly's leadership and successes in the health care industry will be a great asset as we expand the role of PCPI, working to advance the science and practice of measurement and to improve outcomes for patients," he said. Dr. McIntyre added that "Kevin's proven ability to drive results in the quality arena will significantly enhance the ability of PCPI members to identify and implement solutions to improve health care for all of our citizens."
Mr. Donnelly noted that, "As healthcare delivery transforms from fee-for-service to value-based care, and MACRA and MIPS are fully implemented, PCPI is exceptionally positioned." He then added, "We offer services and resources that enable healthcare organizations to develop scientifically valid measures, clinical registries and quality improvement initiatives that drive optimal outcomes."
Mr. Donnelly has experience leading and transforming organizations to earn worldwide recognition. At the College of American Pathologists (CAP), he served as vice president and general manager of SNOMED Terminology Solutions, developing the strategy to establish the new business model for SNOMED-CT, the standard for semantic interoperability around the world. Since the creation of the new organization the membership and adoption of SNOMED has grown from two to thirty countries.
Mr. Donnelly's position as PCPI's CEO and executive director is effective immediately.
XXX
About PCPI
PCPI, an independent, 501(c)(3) nonprofit membership organization, is a national catalyst for achieving optimal health outcomes in the United States. PCPI partners to bring the voices of patients and clinicians together to advance the science and practice of measurement and improvement. More information can be found at http://www.thepcpi.org/