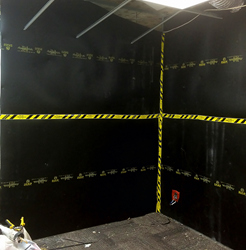 The psychologist was thrilled with the results. The office is now very quiet and there is no voice transfer between the walls inside the office or outside the door and hallway. The sound reduction was impressive.
Tampa, FL (PRWEB) February 16, 2017
Patients expect medical records to be kept private, but what about physician consultations? Typical office building and construction does not include soundproofing as a general rule. It is not uncommon when patients are waiting to see a healthcare professional in the exam room or office to overhear another patient talking in the next room with the doctor. Where this can be a bit embarrassing if a patient runs into another patient in the waiting room or hall, it can be a more serious issue if a patient is discussing confidential issues that need to be kept private and is overheard in the next room by patients or staff.
A psychologist or psychiatrist office is certainly somewhere a patient would not want conversations overheard by someone outside the door or in one of the adjoining offices. Soundproofing should be considered essential in these types of offices. This is of particular concern for psychotherapists and mental health professionals in the United States according to The Health Insurance Portability and Accountability Act (HIPAA) rules where heightened patient privacy protections apply because of the sensitivity of the information.
The HIPAA rule includes information transmitted orally and soundproofing provides a high level of assurance to patients that their information is indeed private. Sound mitigation can also help keep a physician's practice or healthcare organization out of legal complexities, prevent complaints and possible fines.
In Toronto, a practicing psychologist concerned about patient confidentiality engaged Angelo Papadimitriou of Pro-Tech Solutions in Ajax, Ontario, to reduce the sound in her business office. After a thorough assessment of the acoustic conditions and the structure, Angelo, a general contractor with noise control experience, recommended treating three walls with Acoustiblok sound abatement material, and installing a solid door with a threshold and weather stripping on the bottom to keep the sound of the voices from traveling out.
Acoustiblok, an international award-winning material, is 1/8 inch thick and can easily be applied to a standard stud wall and can result in more sound reduction than 8 inches of poured concrete. Results are independent lab-certified. The thin pliable material is engineered not to stop or absorb sound, but through a unique thermodynamic process Acoustiblok transforms the sound energy into trace amounts of inaudible internal friction energy.
For the psychologist office, Acoustiblok material was applied to the walls past the drop ceiling and up to the upper deck. The specially formulated Acoustiblok caulking and tape were used to form a permanent bond to all joints and penetrations to obtain rated sound reduction values (see photos).
According to Angelo, "The psychologist was thrilled with the results. The office is now very quiet and there is no voice transfer between the walls inside the office or outside the door and hallway. The sound reduction was impressive and the price was reasonable for the quality and performance of the product. I have used Acoustiblok on other projects and will continue use it on projects where noise is an issue in the future."
Lahnie Johnson, president and founder of Acoustiblok said, "We get a lot of requests from physician offices and healthcare organizations, lawyers, law enforcement, and other professionals where speech privacy is a major issue. One of benefits of using Acoustiblok in the walls is you don't have to worry about the stringent environment inside the exam room or office."
Acoustiblok is a leader in sound control products and can offer not only the best products for the job, but can also custom design and fabricate certain products for specific needs.
Acoustiblok® Material
Acoustiblok® material is typically applied as part of layered wall, ceiling or floor construction. It is usually stapled to wood studs or screwed to metal studs prior to drywall. It has better sound deadening effectiveness than treatments with lead. A typical 2 x 4 gypsum stud wall is usually 33 to 35 STC. Acoustiblok installed in the stud wall is lab certified at STC 53; better than 8 inches of poured concrete (STC 51). To the human ear this represents over 97% in sound reduction! With 2 layers of Acoustiblok, the STC can be even better. Acoustiblok is UL and ULC approved for use in over 400 wall and floor/ceiling assemblies.
Acoustiblok can be installed on studs before attaching drywall to reduce noise between rooms, over floor joists before the sub floor is attached to reduce the sound from walking (impact noise) as well as, the noise created in the room, on roof trusses to reduce noise from low flying airplanes or busy highways, around plumbing pipes to quiet the sound of running water or in home theaters and multi-functional A/V type entertainment rooms.
In multi units such as condominiums, apartment complexes and office buildings a leading cause of tenant relocation is noise. The problem of sound attenuation in these types of buildings is rarely addressed properly. By installing Acoustiblok during pre-construction over the studs, ceiling and floor joists, sound can be effectively reduced.
QuietFiber®- For Additional Noise Control
To further reduce reflective or reverberant noise in rooms or areas installation of QuietFiber®, a noise absorption material developed by Acoustiblok, is recommended.QuietFiber is engineered specifically for maximum noise absorbency (NRC 1.00) and can be installed throughout the room or area. Areas with high noise levels such as waiting or patient rooms can easily be resolved by introducing as much QuietFiber as possible (under tables, chairs, in cabinets, on top of bookshelves, etc.). Ceiling tiles may also be replaced with the product. White or black-faced QuietFiber is hydrophobic, doesn't support mold, UV tolerant, non-fiberglass, easy to install, E-84 class A fire rated, 100% recyclable, environmentally-conscious, and entirely made in the USA. It is currently available in various sizes and densities for optimum performance, and is UL rated for floor, wall and ceiling applications.
About Acoustiblok – "Quieting the World"
For over 20 years Acoustiblok, a NASA spinoff listed company, has been a leader in developing and manufacturing products for noise control utilized throughout the world. The company has received the top award in the British House of Commons for sound abatement and was recently shown across the globe on National Geographic TV highlighting its unique contributions towards reducing noise pollution.
Primary products include barium free Acoustiblok® viscoelastic polymer-based soundproofing material, Acoustifence® noise reducing fence, All Weather Sound Panels®, QuietFiber® insulating material, Quiet-Cloud® industrial sound absorption panels, Acoustiblok-Wallcover® post-construction soundproofing material and Thermablok® aerogel (the highest insulation known). Adding just one ¼" x 1½" strip of Thermablok to each stud before drywall can increase the R value of the wall by over 33% regardless of the insulation used in the cavity.
Acoustiblok products are used in the industrial, residential, and commercial sectors earning the industry's highest ratings from architects, builders, and consumers. The company's products are made and sourced in the United States. http://www.acoustiblok.com