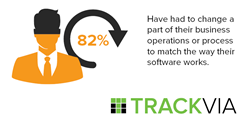 Enterprise software isn't delivering the speed, flexibility or mobility that users really want.
Denver (PRWEB) February 15, 2017
Business leaders and IT pros have long balanced their ongoing love/hate relationship with the critical software that runs their companies, but, according to a new survey, that balance is starting to tip.
In a new report from TrackVia, a provider of low-code application development platforms, most executives say their businesses are changing operations to accommodate current software solutions, and a significant majority of the respondents even said they fear the limitations of their software programs have negatively affected their company's growth.
The report detailing the survey results, Frustration: Enterprise Software and the Wave Ahead, found that most of business and IT executives are generally frustrated and unsatisfied with their current software options, citing everything from inflexibility to lack of contemporary mobile capabilities. More than 80 percent of executives have had to change a part of their daily operations to match the way their software works, the survey found.
The survey and report also examined rising attitudes toward a new category of software commonly referred to as, low-code application platforms. These next-generation platforms allow users to rapidly and efficiently create fully customized applications with a minimum of hand-coding, setup and deployment. Nearly one in three executives surveyed are already leveraging this technology and another 43 percent say they are interested in low-code technology.
"The last significant shift in enterprise software was the migration from on-premise to off-premise software, which addressed some of traditional software's distribution and pricing challenges, but did comparatively little to address the needs of the people who actually use the software to do their work," said Charles Var, VP of Marketing for TrackVia. "The continued frustration with almost this entire class of enterprise software is encouraging businesses to find solutions that work the way businesses want and that function on any device, anytime, and from anywhere. "
"The survey suggests that enterprise software isn't delivering the speed, flexibility or mobility that users really want," he continued.
Additional key findings in the report include:
● Software Priorities Mirror Challenges - Integration or compatibility with other software and applications was cited as the top priority (32%) and also the biggest challenge (31%) for executives
● Existing Enterprise Software Is Not the Solution - 76% have replaced enterprise software programs, because they needed updates or customizations made that their vendor could not execute or the software itself couldn't accommodate
● Low-code Software Is Gaining Momentum - Only 8% of executives are not familiar with low-code software solutions with both interest in and adoption of this technology quickly growing
To better understand the current state of enterprise software, TrackVia surveyed over 500 business and IT executives about their frustrations with existing software solutions, including the challenges they pose, their common limitations, and the ways in which they need to be improved. For more on the findings of Frustration: Enterprise Software and the Wave Ahead, download the full complimentary report here.
About TrackVia:
TrackVia is a leading low-code application platform in the cloud that specializes in streamlining and mobilizing critical operational processes and field workflows. The TrackVia platform allows businesses to rapidly create custom web and native mobile applications that unite executives, managers and workers with all their data, processes and collaboration in one environment accessible on any device. More than 800 businesses rely on TrackVia, including Honeywell, Navistar, DIRECTV, DOW, Brinks and others. Learn more at: http://www.trackvia.com.