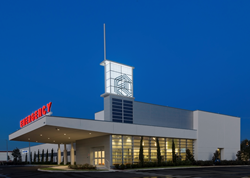 This emergency room facility will provide the Central Pasco community with greater access to comprehensive emergency care.
Wesley Chapel, FL (PRWEB) February 14, 2017
Florida Hospital Wesley Chapel is planning to build an off-site emergency room on State Road 54 just east of the Suncoast Parkway in Pasco County. The hospital recently purchased the land and expects to begin construction Spring 2017.
"This emergency room facility will provide the Central Pasco community with greater access to comprehensive emergency care," said Denyse Bales-Chubb, President and CEO of Florida Hospital Wesley Chapel. "We recently completed a significant expansion at Florida Hospital Wesley Chapel and we continue to add physicians and services to meet the medical needs of our growing community."
The 18,000-square-foot building will be a full service emergency room providing emergency care 24-hours a day, seven days a week. The ER will have 24 beds, staffed with board-certified emergency medicine physicians and highly trained nurses who specialize in emergency care. The ER will also include on-site imaging services including X-ray, ultrasound, and CT scan and laboratory services.
"Not only will this facility add another option for high-quality medical care for the Central Pasco community, it will provide over 50 high-skilled jobs for our residents as well. The Pasco Economic Development Council was happy to provide assistance with expedited permitting to one of our County's major employers, so they could get this project off the ground quickly," stated Bill Cronin, president/CEO of Pasco Economic Development Council.
The expected opening of the new ER facility will be in late 2017 or early 2018.
About Florida Hospital Wesley Chapel
From state- of- the- art equipment to the most intricate building details, Florida Hospital Wesley Chapel was designed from the ground up to maximize healing, patient care and wellness. After a recent expansion, the hospital has 145 all-private patient rooms. Since opening in October of 2012, Florida Hospital Wesley Chapel has been nationally recognized as a leader in patient satisfaction, quality and safety. The hospital offers a full range of inpatient and outpatient health services, including surgery, imaging and rehabilitation services and emergency services for adults and children. The hospital features a 50,000 sq. ft. community Health & Wellness Center and a wide range of community offerings such as health and wellness presentations, screenings and events. The recent expansion added 111, 993 square feet of new construction and 10,834 square feet of renovation. Florida Hospital Wesley Chapel added additional emergency rooms, inpatient rooms, operating rooms, Heart Catheterization Lab, and recovery/observation rooms as well as shelled space for future growth. Part of the Adventist Health System, Florida Hospital is a leading, not-for-profit health network comprised of 26 hospitals throughout the state. For more information, please visit http://www.FHWesleyChapel.org.