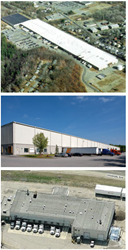 Boston, MA (PRWEB) February 16, 2017
Hackman Capital Partners LLC and Calare Properties, Inc., announced today the completion of three leases totaling 167,764 square feet in Clinton and Norwood, Massachusetts.
111 ADAMS ROAD, ADAMS ROAD INDUSTRIAL PARK, CLINTON, MA:
Bunzl Distribution Northeast, LLC will be nearly doubling its space—from 45, 672 square feet to 87,672 square feet—in the state-of-the art facility at 111 Adams Road. Mark Sonnenberg of NAI Heartland represented the tenant in the recent renewal and expansion.
Bunzl Distribution USA, Inc. supplies a range of products including outsourced food packaging, disposable supplies, and cleaning and safety products to food processors, supermarkets, convenience stores and non-food retailers. Based in St. Louis, Missouri, Bunzl Distribution is the largest division of Bunzl plc, an international distribution and outsourcing group headquartered in London.
The robust, 458,000 square foot, multi-tenant facility, formerly the Ames Department Store distribution center, is on Pan Am Railway and offers high bays, extensive loading, heavy power and abundant parking.
There are two suites in the building currently available for lease, one at 47,140 square feet and one at 91,005. A third, for 120,187 square feet will be available in January 2018.
100 ADAMS ROAD, ADAMS ROAD INDUSTRIAL PARK, CLINTON, MA:
Scholastic Book Fairs, Inc., extended their 60,500-square-foot lease at 100 Adams Road. The 344,000-square-foot industrial facility continues to be 100% occupied. Scholastic is the world's largest publisher and distributor of children's books with $1.6 billion in annual revenue.
Simon Landsman of JLL and Kevin Hanna of Cushman & Wakefield represented the tenant in the transaction.
615 UNIVERSITY AVENUE, NORWOOD, MA:
Harvey Building Products has leased the 19,592-square-foot building at 615 University Avenue. Harvey Building Products manufacturers and distributes vinyl and wood windows, doors and other exterior building products. The company will use the space to open a new distribution center to serve
contractors and builders in the area.
Harvey Building Products currently operates 35 warehouse and two manufacturing locations throughout the Northeast and Mid-Atlantic states. The University Avenue location will be its first in Norwood and is expected to open in March of 2017.
NAI Hunneman Executive Vice President Cathy Minnerly and Vice President Ovar Osvold represented the landlord in the transaction. JLL's Ed Jarosz and Rick Schuhwerk represented the tenant.
12-MONTH ACTIVITY:
The Clinton and Norwood properties are owned by a joint venture formed by Hackman Capital Partners, Calare Properties and KBS Real Estate Investment Trust. The buildings were purchased in 2007 as part of a large industrial portfolio.
Since January of last year, Hackman Capital Partners and Calare Properties have transacted more than 1.8 million square feet in new leases, expansions and renewals across the Northeast properties, including over 1.14 million square feet in Massachusetts, and more than 2.9 million square feet in property sales in Massachusetts and Connecticut.
More About Hackman Capital Partners
Hackman Capital Partners is a privately-held, real-estate investment and operating company that focuses on the acquisition of commercial properties in major U.S. markets and other real estate that can be repositioned for higher and better uses. Founded in 1986, Hackman Capital has conducted more than $3 billion in real estate transactions across 41 states—having owned, through affiliated entities, over 400 buildings totaling 35-plus million square feet and 24,000 acres of developable land. The company is based in Los Angeles, California with offices in Columbus, Ohio, Chicago, Illinois and Boston, Massachusetts. It currently employs 82 people and manages approximately 300 major tenant companies nationwide, including Home Depot, Staples, Coca Cola, Lowe's, Sony and Lego.
For more information, visit hackmancapital.com.
About Calare Properties
Founded in 2003, Calare is a real estate operator focused on acquiring and managing warehouse, manufacturing, research and flex/office assets primarily in the Northeast. The company's experienced team and fully integrated operating platform provide investment, asset management, leasing and property management expertise to drive performance at all stages of the investment process from acquisition through disposition. Calare has led the acquisition of more than 17 million square feet of properties, representing $800 million in real estate transactions through funds, direct deals and a multi-asset portfolio.
For more information, visit calare.com.