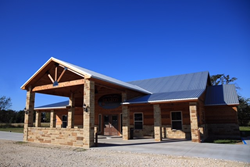 Dallas, Texas (PRWEB) February 20, 2017
Brazos Recovery Services is pleased to announce the opening of its new residential treatment building. This addition will allow Brazos Recovery Services to expand their addiction treatment continuity by offering their potential clients all levels of care. Brazos has prided themselves in its tireless dedication by providing men with tools of recovery using the tried and true 12 Step Program, along with a balance of comprehensive therapy, which equips men the necessary tools for life and an impactful personal recovery journey. This new residential building at Brazos will allow them to provide comprehensive front-end services with residential detox and residential treatment, while still providing the following levels of care: partial hospitalization treatment, intensive outpatient treatment, outpatient treatment and sober living within their treatment modality.
This new residential building also provides additional beds and is nestled in the center of the already established campus. While residing here, clients will receive confidential assessments, medically-monitored detoxification and a residential program that delivers quality care with dignity, compassion, and respect.
Clients at Brazos receive both individual and group counseling in the areas of coping skills, relapse prevention, chemical dependency education and family of origin issues. In addition, Brazos Recovery Services is a program designed to immerse men in the restorative and spiritual work brought about by working the 12 steps, which are outlined in detail in the original 12 step literature.
At Brazos Recovery Services, there is a belief that addiction is a disease and not a moral weakness, and permanent sobriety is possible when clients commit their lives to following the basic principles that are the central philosophy of the program. The newest addition to the campus allows Brazos to serve more men with this philosophy with a newer look and feel.
If you or a loved one is struggling with alcoholism or addiction or believe change is necessary, please call Brazos Recovery 254-232-1550 today for a confidential assessment.
For more information on Brazos Recovery Services and how they help men recover from addiction, please visit their website at http://www.Brazosrecovery.com and see how change IS possible.