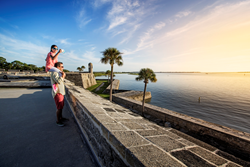 "Family vacations are essential to maintaining balance in life," said Richard Goldman, President of St. Augustine, Ponte Vedra & the Beaches VCB. "A vacation in Florida's Historic Coast will create family memories that will last a lifetime."
St. Augustine, Florida (PRWEB) February 15, 2017
Hispanics are a people that pride themselves in family values. They don't travel away from their families—they travel to them and with them. Vacations between February and April tend to be easier to not only plan, but also gentler on the family budget. Florida's Historic Coast's diversity will not only satisfy the tastes of the young and old, but also create memories for a lifetime.
LEARN: CULTURAL AND HISTORICAL JOURNEY
For more than 450 years, Hispanics have had a deep and positive influence on the United States. A cultural and historical journey in the oldest city in the US will transport the family back to a time where Hispanics clear-cut commitment to family, faith, hard work and perseverance helped enhance and shape today's national spirit. Visit with the family the first Spanish settlement which commemorates the founding of La Florida by Spanish explorer Ponce de Leon and his legendary search for the Fountain of Youth. Archeologists have discovered that the park is the actual site of the original Spanish settlement of St. Augustine of 1565. Abuela's faith will be rejuvenated by visiting the site of the first celebration of holy mass – Mission Nombre de Dios. Kids of all ages – especially the boys – will enjoy imagining themselves as soldiers as they step foot inside the Castillo de San Marcos, the first and oldest masonry fortress in the US. The fort, a National Monument, was built by the Spanish to protect their treasure fleets from the English and pirates.
Family Benefit: When you travel with family you realize that few things are as important as the people who love you. The second most important thing is appreciation that your family is part of a larger and important community. Experiencing the destination where US Hispanic heritage was born and sharing it with your family allows everyone to understand how deep-rooted Latino culture is in this country and how the Hispanic community molded the strong soul of this nation. Tip: Perfect opportunity for the abuelos to talk about their family roots and share experiences and stories with the family.
RELAX: DOWN TIME
It has been 500 years since Ponce de Leon first saw the beaches of St. Augustine and Ponte Vedra, but even after nearly five centuries they remain an attraction on Florida's Historic Coast. Beauty, history and unspoiled nature combined have put Ponte Vedra Beach on CNN's list of 22 Can't Miss US Beaches and St. Augustine Beach chosen as a Top 10 Beach in the US by TripAdvisor users. Whether it's the primos and tíos having fun in the sun, a romantic walk by the seas or a day of reflection and relaxation to the accompaniment of the gentle surf for the abuelos; this is the place for best of the beach.
What to do: Ponte Vedra is home to the famous THE PLAYERS Championship Stadium Course and its 17th island green – a bucket list experience for golf aficionados.
Family Benefit: Take a time out. Families live in a stressful world. It's time to hit the pause button. Vacations compel people to stop and smell the roses. This way when family members return to their daily lives, batteries will be recharged and they will be ready to face the world. Tip: Allow time to relax. Plan a loosely structured itinerary of activities that the whole family can enjoy. But agree to have some time each day to just chill
EXPLORE: OUTDOOR ADVENTURES
If you are looking for outdoor activities that can satisfy family members of every age, Florida's Historic Coast is a guaranteed family-friendly destination. Aside from the 42-miles of beaches; outdoor adventures will give everyone plenty of stories to share and remember when they return back home. The following activities are a must when in St. Augustine:

Hover over alligators and crocodiles on the challenging Crocodile Crossing zip line course at St. Augustine Alligator Farm and Zoological Park
Swim with the dolphins at Marineland Dolphin Adventure
Reel in the big one on a guided fishing tour with Drum Man Charters
Climb 219 stairs of the St. Augustine Lighthouse and Maritime Museum
Soar over the city in a beautiful 1935 "model" Waco biplane
Family Benefit: Traveling as a family, especially with younger ones, provides the opportunity for the "adults" to experience activities they wouldn't otherwise. The young at heart are curious by nature and ready to try new things. This characteristic will allow everyone to step out of their comfort zone and join in the fun. Tip: Schedule activities with your family's normal routine in mind. Toddlers are generally most active in the morning, a time when grandparents are also up. Teens typically sleep late, so it's best to schedule the thing they most want to see or do in the afternoons or evening.