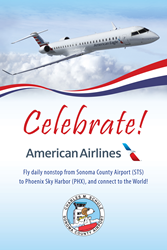 "This is an exciting partnership for the County of Sonoma. American Airlines service opens up the first opportunity for a hub airport east of California, connecting our Community to the World!"
Santa Rosa, Calif. (PRWEB) February 16, 2017
Charles M. Schulz – Sonoma County Airport (STS) and American Airlines open a ticketing and check-in facility to accommodate new daily non-stop service to Phoenix-Sky Harbor International Airport (PHX). Flights will operate as American Eagle on their 70-seat Bombardier CRJ-700 aircraft. The seating is a comfortable 2-class configuration offering three rows of First Class, inflight Wi-Fi, and food and beverage service. Tickets for these daily flights can be purchased at http://www.aa.com.
"This is an exciting partnership for the County of Sonoma. American Airlines service opens up the first opportunity for a hub airport east of California, connecting our Community to the World! And, we are proud at the effort it took to make this happen, and look forward to its bright future," said Chairwoman Shirlee Zane, Sonoma County Board of Supervisors.
At 10 a.m. a ribbon cutting ceremony will take place celebrating the new facility, and festivities will be held to greet the inaugural flight into Sonoma County.
Less than two hours each way, the flights will arrive into Sonoma County at 12:14 p.m. and depart daily at 12:45 p.m. from STS to PHX. Flights into Phoenix Sky Harbor offer easy, convenient connectivity to several eastbound and Mexico destinations.
About Charles M. Schulz – Sonoma County Airport (STS):
The Charles M. Schulz - Sonoma County Airport (STS) is located in the heart of Wine Country, 55 miles north of the Golden Gate. The Airport offers daily direct flights on Alaska Airlines to Seattle, Portland, Los Angeles, Orange County, and San Diego, twice a week flights on Allegiant Air to Las Vegas, and now nonstop daily flights to Phoenix Sky Harbor on American Airlines.
Offering a hassle-free experience with shorter lines, the Charles M. Schulz - Sonoma County Airport also features convenient ground transportation, easy and affordable parking, the Alaska Airlines Wine Flies Free program and the on-site Sky Lounge Steakhouse & Sushi Bar.
For additional airport information, visit: http://www.sonomacountyairport.org. Follow Charles M. Schulz – Sonoma County Airport on Facebook and Twitter.
For further information, journalists are asked to contact Jon Stout, Airport Manager at [email protected] or (707) 565-7243.